This website is being built to create a place where information can be looked for and gathered about the time of the Ministry of Transport administration. Many articles are based on the old Campbell and Raoul Association Quarterly Journal and what people who were stationed on the islands are up to today. Information will be added as frequently as possible and if anyone has anything they want to add, please get in touch. Information we are after is in the Raoul Research and Campbell Research sections. This is research for upcoming books but also to document information that may be lost. An example is the memorial or monument on the Fishing Rock road. There is no plaque on it now which explains why it was built.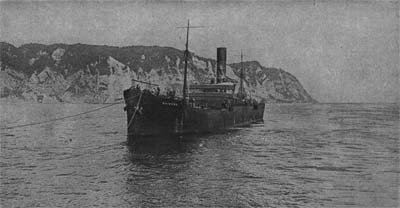 Union Steamship vessel Wairuna on north side of Raoul.
Photo taken from SMS Wolf June 1917
Construction of the station at the Beeman site, moving away
from the 1941 coastwatcher station.