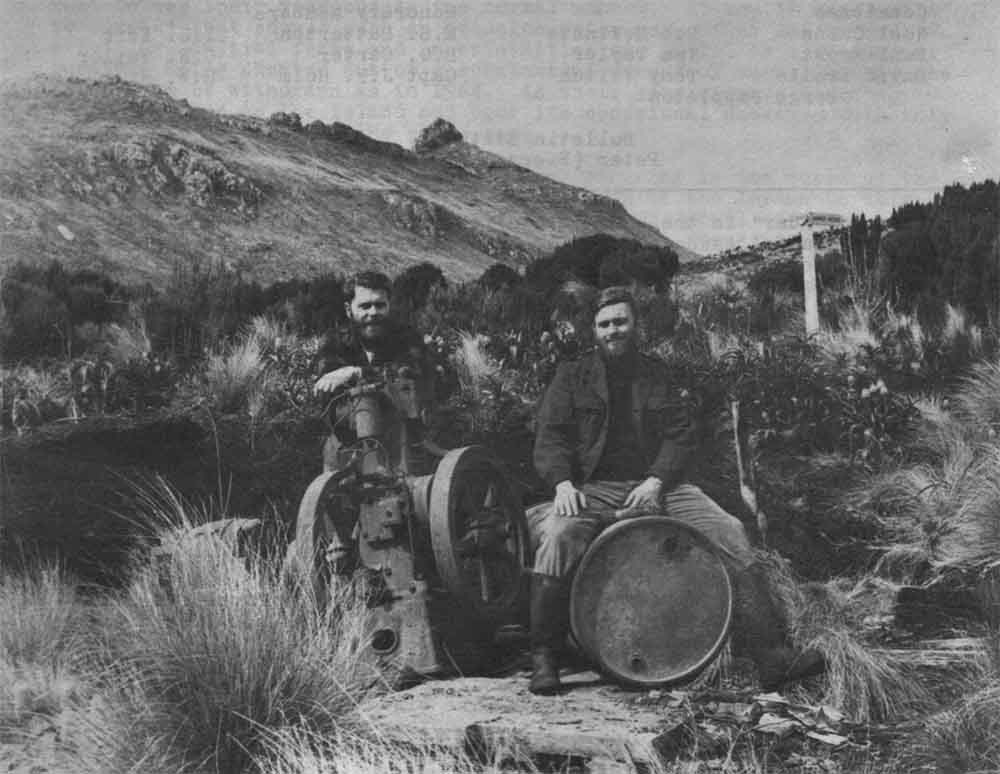 1965 POWER CRISIS at the old Tucker Camp on Campbell Island is examined by Pete Ingram leaning on the well rusted up diesel generator unit and Eddy de Ste Croix sitting on an empty fuel drum. the installation once provided power for the ionosphere equipment until 1957
CAMPBELL-RAOUL ISLANDS' ASSOCIATION (INC.)
NEWSLETTER Vol 3 Number 2 MAY 1976
Association Officers 1975 - 76

Patron
Air Vice-Marshall A. H. Marsh C.B.E.
President
Richard Lovegrove
| | | |
| --- | --- | --- |
| Secretary | | Treasurer |
| Tony Bromley | | Bill Hislop |
| | | |
| Committee | | Honorary Members |
| Paul Frost | | M. Butterton |
| George Poppleton | | H. Carter |
| Tom Taylor | | Capt. J. F. Holm |
| David Leslie | | I. Kerr |
| Noel Caine | | C. Taylor |
| Bob McVinnie | | H. W. Hill |
| Tony Veitch | | |
Newletter Editor
Peter (Pierre) Ingram
"The Islander" is the official quarterly bulletin of the Campbell-Raoul Islands' Association (Inc.) and is registered at the Post Office Head­ quarters, WELLINGTON, for transmission through the Postal Services as a magazine. All enquiries should be addressed to: The Secretary, CRIA (Inc.), G.P.O. Box 3557, WELLINGTON. Contributions to the bulletin should be forwarded to the Editor, CRIA (inc), G.P.O. Box 3557, WELLINGTON, and subscriptions to the Treasurer. Current membership rates are $3 per annum.
__________________
OF ANOTHER LAND
The Editor apologises for not producing a quarterly bulletin for last December. But he had migrated to the Great White South for the summer on a path that has already been covered by some 10 per cent of our Association's members. Perhaps the path is more an aerial highway now and the movement of personnel through McMurdo town comes as a bit of a surprise for the uninitiated. And the complexities of Scott Base's summer programme are far beyond the terms on which we operate Raoul and Campbell Islands. However, it is all very thrilling and one feels some sense of pride in being a proper part of it. Antarctica is a serene and beautiful country, quietly doing her thing as the centuries slip past. The winds that blow over her are cruel and unforgiving. They are of another spirit and no kin to this fascinating continent, and have taken up convenient residence through the physics of global evolution. For those members who still have the chance to go, they should not miss the opportunity. Treated with the correct and appreciative respect which she justly deserves, Antarctica will return a lifelong reward of spectacular memories and experiences to the lucky applicant.
*************************
Editorial: THE ROCK ISLAND LINE
The significant earthquakes which have occured at Raoul Island during January of this year have once again brought public focus to that daring little group of men resident on this small oceanic and volcanic pimple. At such times, the average New Zealander will read the newspaper accounts based on the Seismological Observatory's findings, and be quite thankful that it is not his lot to have to earn a temporary living in such a place.
However, if the event is larger or more prolonged than usual, it is normal for the papers to also report confessions from the expedition staff that they do not wish any form of evacuation to take place and want to see their year out in the normal manner. It may be reasonable to surmise that should such an occasion arise soon after the annual servicing, initial fears and uncertainties are dulled by a feeling of possibly being cheated out of a substantial amount of wages, should the expedition be withdrawn as in 1964. As their year progresses, they become attuned to the island and bear its occasional shakeups with only a temporary increase in the pulse rate.
There is little doubt that earthquakes occurring in the quiet of the Kermadec night provide a most eerie experience to the layman on this Subject, especially if he is one of the meteorological officers performing a solo night duty. Should the occasional domesticated wild cat be in residence, it is the first to take action and yowls at the fly screen door to be let into the night, long before any human recognition of what is happening.
For an earthquake prone region though, Dr Robin Adams of Wellington's Seismological Observatory states that Raoul Island is not a bad place to be, and points out that the recent Guatemala tragedy was brought about by earthquakes of lower intensity than those experienced on the island during mid-January (7.3 maximum on the Richter scale against Raoul's 7.8 and 7.6). This is simply explained by the fact that nothing of a structural nature is likely to fall on you.
By the recently (1967) developed theory of 'plate tectonics,' Raoul' s geological creation and subsequent troubles stem from underthrusting, caused by the movement of the Pacific plate's western boundaries grinding under the eastern edge of the Indian Ocean plate. The major evidence of this action is the mighty Kermadec Trench which has its deepest parts, in excess of 4000 fathoms, some 150 miles to the east of Raoul. The Island's volcanic bulk is the by-product of this movement, a telltale vent from enormous heat generated by the friction and pressure of the continuing collision of the two surfaces. The earthquakes which must follow will have their focii over a vast range of depths. And coupled with the degree of movement at these points, so there will be an equally large range of responses felt on the island.
It is obvious when the nature of the cause is known, that a long range forecast of diminishing activity will never be sounded. This particular Raoulian characteristic is permanent and the local residents should assure themselves that it is "not a bad place to be '' after all. Which is what past expedition members have said all along.
*************************
ANOTHER LITTLE SHAKEUP
The Kermadecs have been at it again with a series of notable earthquakes during the month January this year. The first came on New Year's Day with a reasonably solid 7.2 on the Richter scale. Then there was an early morning shake to rouse the boys at 0458 hours on the 15th, followed by a reminder at 0547 hours for those who had turned over and gone back to sleep again. Their respective forces were 7.8 and 7.6 . All was then quiet on the seismic front until the 20th of January, when a relatively minor 4.8 just managed to scrape into the newspapers.
However, the results of the two 'quakes on the 15th were sufficient to organise an inspection party in New Zealand, which left the Naval Base at Devonport on Tuesday 20th. Those who travelled on the frigate Canterbury were Messrs Wilkie (R&CI A), Dash (Met HO), Kirkham (Ways 5), Maunder (Seismo DSIR), Nathan (Geology DSIR), McConnell (Ranger L&S) and Walkington and Gilberd (MWD).
A 'Wasp' helicopter was used to fly over Curtis and Macauley Islands carrying Wilkie and Nathan to look for any signs of damage. Apart from a few coastal rock slips on Macauley, nothing else was noted: Canterbury arrived off Raoul at 1700 hours on Wednesday 21st.
Two 'Wasp' helicopters were then used to ferry the inspection party ashore as well as conducting an aerial survey of the island to once again look for any significant damage. 45 ship's crew were brought ashore with their own camp equipment, but the new workshop complex provided sufficient roof for their overnight stay.
Damage listed consisted of:
i) One transmitter was thrown on to its side and an external aerial feeder broken.
ii) The water supply line was fractured in two places where it crosses the ravine on the farm.
iii) Ceiling paint was torn in the old meteorological building.
iv) A major slip occurred on the Fishing Rock Road where it passes along the NE sector of the Blue Lake crater wall.
v) Wide but apparently shallow fissures at the head of the foxway.
vi) Surface cracking of the road before the turnoff to Fishing Rock.
vii) A medium slip over the track just prior to the Fishing Rock landing.
The navy boys made short work of clearing the slips and were up anchor by 2200 hours on Thursday, arriving back at Devonport at 0800 hours on Saturday 24th January.
________________
At the time of writing, a further relatively large earthquake has been felt on Raoul. A magnitude of 6.7 on the Richter scale was recorded at 1649 hours local time on the 24th March.
****************************
OF THIS AND THAT....
OLD GOLD: Public interest again increased in the Auckland Island wreck of the General Grant during January of this year, when the national newspapers started to report at length on the movements of the R.V. Acheron and the deregistered Bluff fishing vessel Atlantis along the main island's west coast.
Commander Gratton (RN) was making his second effort to locate the wreck from the chartered decks of the Acheron, while skipper Peter Tait of the Atlantis claimed he was there through curiosity - nothing else.
The General Grant smashed into the western cliffs on the night of May 14, l866, in rough seas and light winds which failed to bring the l,l03ton ship about. Only 15 persons survived the wreck from a ship's complement and passenger list of 83. What prompted this nineteenth known expedition to the site is the knowledge of 2,576 ounces of gold which the 'Grant' was known to be carrying. The newspapers claimed that the present day value of this amount is fifty million dollars.
Confirmation that the wreck is definitely the correct ship has still to be made. Kelly Tarlton who dived with Gratton last year claims the pieces found are that of the ill-fated iron-clad Anjou that ran ashore near Cape Bristow on May 16, 1905. Alex Black, owner of the Acheron, stated recently after this year's trip that there was no proper evidence that the small amounts of iron found were any part of the Anjou.
This last party must be coming close to the truth, however. Amongst objects brought to the surface after their 110 year watery immersion were three sections of a gimbaled chronometer and a ship's bell fragment. And just to keep the armchair adventurer in suspense was an excellent photograph in the "Evening Post" (Wellington, 20.1.'76) of diver Simon Roberts hanging on to a massive anchor, perhaps dropped in a last endeavour to wear the ship off on that fatal night of May 14, 1866.
NEW SCENES OF AUCKLAND ISLAND: were shown to an appreciative Audience on Wednesday night, 17th March, in an excellent 16 mm film compiled by skipper Alex Black during his last voyage to these sub-antarctic islands. Mr Black has handled his subject very well. He is a master at panning a camera and goes to the effort of frequently using his tripod so that his zoom shots are steady and graceful in their execution. Perhaps a little disappointing was the lack of footage on diving operations at the site of the General Grant wreck. But there was a refreshing bonus of good sea-going shots of the R.V. Acheron which certainly portrayed her as a ship of some substance. Although fine weather greeted their arrival and showed off the rich colours of Rose and Enderby Islands to advantage, a high overcast later reduced light for good photography in Fairchild's Garden on Adam Island. Never-the-less, for those who previously knew nothing about God's Little Acre, they could not fail to have been impressed by the vast variety of flowering plants at such a southern latitude. The Acheron proved an excellent platform for the 'fiord' scenes, something which other films on the region seem to neglect. Prior to an excellent supper, Sir Robert Falla thanked Mr Black on behalf of an audience which had thoroughly enjoyed the screening. The Wellington division of the Antarctic Society had been responsible for organising the evening and had done well in selecting the comfortable new rooms at the Friendship Centre in Boulcott Street as the venue.
Cutter Enterprise at Auckland Islands stands off the cave which may hold the General Grant treasure. Photo was taken in July 1916.
___________________
NEW INCREASES: in wages and salaries were announced for the 1976/77 expedition members in the Public Service Circular for 3rd March:
| | | | |
| --- | --- | --- | --- |
| | 1975-76 | 1976-77 | Increase |
| Office in Charge | $6868 | $7798 | $930 |
| Cook | $5193 | $5833 | $640 |
| Technicians | $6147 | $6807 | $660 |
| Mechanic | $5331 | $5997 | $666 |
| Farmer | $5630 | $6288 | $658 |
| | | | |
| Allowances | | | |
| Raoul Island, Married | $1083 | $1203 | $120 |
| Raoul Island, Single | $845 | $1117 | $272 |
| Campbell Island, Married | $1683 | $1803 | $120 |
| Campbell Island, Single | $1325 | $1673 | $348 |
LEAVE AMOUNTS: laid down for service on the islands are:
Raoul Island: 1 calendar month for the complete tour or 2 days per month served.
Campbell Island: 6 weeks for the complete tour or 3 days per month served.
METEOROLOGICAL STAFF: numbers and the necessary work classifications for the two islands are now:
Raoul Island: 1 Observing Officer 554.105, 4 Observers 554.101-2
Campbell Island: 1 Observing Officer 554.103-4, 2 Observers 554.101-2
Two observers from the outgoing expedition on Campbell Island, normally stop back for the following summer months to cover the increased upper air programme required by Operation Deepfreeze.
LATEST JOLLY: to Campbell Island utilised the frigate Taranaki which sailed from Lyttleton on Wednesday 11th March on Wildlife Service duties. After a comfortable trip in NE conditions, Taranaki at 2000 hours on Friday. MOT types aboard were: John Falkner (Met), Bob Heath (Admin), Bart Wilkie (SCR&C) and John Woodley (Engineering).
The icebreaker Burton Island arrived at midnight on Thursday 19th. She never entered Perseverence Harbour, but conducted a commuter service with her two S52A helicopters during the morning from the NE Harbour area to the Beeman Camp for the MOT officials and outgoing Campbell staff.
In this latter group were the two Deepfreeze met observers, Chris Tucker and Mike Nicholas, the OIC Peter Eddy and ionosphere observer Richard Farley. Dick Ferguson, Campbell's mechanic will double as OIC until the next servicing. Philip Owen of Christchurch has gone in to take the dual task of DSIR technician and ionosphere observer. Also on board Burton Island were the last summer lads to be withdrawn from Scott Base. One of them, Eric Saxby who is well known to Lake Vanda met types, was seconded to the Dome Charlie jaunt to help recover two of the three Cl30s stranded on the 3500m ice plateau.
ISLAND STAFFING 1975-76
| | | |
| --- | --- | --- |
| Raoul Island | | |
| Officer in Charge | Evan MacGregor | Auckland |
| Cook | Dennis Carrroll | Takapuna |
| Mechanic | Richard Burrows | Levin |
| Telecom | Kevin Bryer | Auckland |
| Farmer | Alan McLeod | Dunedin |
| Maintenance | Phil Liley | Havelock North |
| Senior Met | Tony Williams | Wellington |
| Met Observer | Alan Yule | Levin |
| Met Observer | Lance Andrewes | Dunedin |
| Met Observer | David Allen | Christchurch |
| Met Observer | Cam Coutts | Dunedin |
| | | |
| Campbell Island | | |
| Officer in Charge | Peter Eddy | Waitara |
| DSIR Technician | Bruce Hurley | Hamilton |
| Ionosphere Obs | Richard Farley | Masterton |
| Telecom Technician | Robin Humphrey | Wellington |
| Cook | John Pettigrew | Auckland |
| Mechanic | Dick Ferguson | Rotorua |
| Senior Met | Mark Crompton | Christchurch |
| Met Observer | Tim Armitage | Hamilton |
| Met Observer | Tony Shaw | Nelson |
| Met Observer (D.F.) | Chris Tucker | Kawerau |
| Met Observer (D.F.) | Mike Nicholas | Christchurch |

RAOUL ISLAND 1975/76, left to right: A. Yule, R. Burrows, A. McLeod, D. Allen, P. Liley, K. Bryer, L. Andrewes, D. Carroll, T. Williams, C. Coutts and E. "Moki" MacGregor

CAMPBELL ISLAND 1975/76, left to right: M. Nichols, T. Armitage, T.Shaw, P. Eddy, B. Hurley, J. Pettigrew, D. Ferguson, R. Humphrey, C. Tucker, M. Crompton and R. Farley
LOCAL COLOUR: may soon be given to the meteorological office out on Chatham Islands by training local lads for future positions, if Lyttleton M. P. Miss C. E. Dewe's suggestion is accepted by Cabinet. Other posts included in her report are positions in school teaching and Post Office technical service.
THE CHATHAM ISLAND BLACK ROBIN: (Petroica traversi) which received considerable mention in our newspapers last year is causing Wildlife Service some concern. In a report sent to the Editor by Brian Bell, it was pointed out that the Mangere Islands (northwest of Pitt Island) have fast been losing their forest cover over the last thirty years and this rare little bird, along with an equally rare neighbour, Forbes' parakeet (yellow crowned, maximum numbers 30), are facing a housing crisis.
The planting of ake-ake (Olearia traversii) in large numbers has been recommended - something like 30,000 cuttings being necessary in a lm x lm density to stabilise and extend the remaining forest. Those of you who have seen the effective shelterbelts (Chatham flax and macrocarpa combinations) devised by the inventive Weisner brothers at Kaiangaroa, will be interested to learn that the same system will be used to shelter the young cuttings in the more exposed areas on both islands.
The decline of the present forest has been due to damage resulting from periodic dry (low humidity, high salt) storms which has caused progressive crown destruction in the trees. Even if the Chathams were blessed with a climatic improvement in the years to come, the ground burrowing birds are hardly likely to change their habits and drought inducement in the soil would continue.
Whatever plan is decided on, it is obvious it will have to be implemented very soon.
*****************************
YESTERYEAR: Twenty Years On .....
Almost unnoticed, that successful and useful little quarterly, 'Antarctic', has just passed through its twentieth birthday. Author (six published works on the Antarctic) L. B. Quartermain edited the fledging bulletin in its formative years with the distinctive style that it retains to this day.
No happening on the vast white continent seemed to escape his attention, and as a bonus for the many subscribers, he kept the subantarctic islands under constant review. Here are some abridged notes on what he had to report during March 1956:
CAMPBELL ISLAND: Building materials tor the new Beeman camp left Lyttelton on the M.V. Holmlea on December lst. The two carpenters in charge of the construction were J. D. Jamieson and D. Harrison. The Greenville Victory and ice-breaker Glacier followed shortly afterwards with stores for the island. In the wildlife sector it was reported that all the Royal Albatross chicks for that season hatched within a ten day period, February 17th to 27th and a small rookery of yellow-eyed penguins were visited.
MACQUARIE ISLAND: The Kista Dan serviced this island on December 10th bringing a relief party of 15 under the leadership of New Zealander Ian Adams. Also aboard were six Border Leicester ewes and a ram as well as ducks, geese and hens. One hundred and fifty seedling trees (willows, birch, pines, holly and hawthorn) were taken for planting and it would certainly be of interest to know today how these exotic plants have made out at 55 South.
KERGUELEN ISLAND: (49S- 69E) Thirty men arrived on the Gallieni on November 2nd to check out the necessary for building an airfield while ten sea-elephants, thirty penguins and four skuas made the return journey for future homes in the Paris museum and Antwerp zoo. Of interest was the satisfactory raising of reindeer, minks, sheep, pigs and ponies in the sub-antartic climate. Rabbits were posing a problem when normal myxomatosis procedures failed to have the desired effect and hopes for future success were being looked into by using lice as carriers.
HEARD ISLAND: (53S - 74E) was visited by the Kista Dan on March 9th. the station had been deserted over the previous year but was still intact. The inspection party spent a chilly time in the surf (2C) when their boat swamped and were finally rescued by D.U.K.W.
****************************
A VALUABLE CONTRIBUTION
Ian Kerr, Director of Forecasting for the Meteorological Service, hopes to have his new book 'Campbell Island' in the shops during April of this year. Basically a revised version of his historical series which have appeared in past 'Islanders', the 150 page work will contain some 40 photographs. Initial support was given by the Outlying Island Reserves Committee and Reeds are the publishers. As a historian's work is never done, Ian still wishes to see any interesting photographs of Campbell Island that readers may have tucked away at home. He may be contacted through the Meteorological Service's postal address - P.O. Box 722, Wellington. In the meantime, we are teasing Ian to get on down to Whitcoulls and autograph the first 2000 copies sold.
*****************************
FACES FROM CAMPBELL'S PAST (1963/64): Back row, left to right - John Washer (Summer Met), Eddie de Ste Croix (Sen Met), Bob Rae (Cook), John Squibb (Summer Met), Cliff Dowe (Sen Ion), Doug Herkt (Carpenter), Bill Cousins (Ion), Front row, left to right - Pete Ingram (Met), Erwin Matheson (Mech), Neil MacDonald (Satelite Tech), Jim Judd (OIC), Martin Davison (Tech) and Ron Craig (Met).
*****************************
CAMPBELL ISLAND REPORT (December)
A month of finishing a lot of jobs started during October. The cool-store is now completed and working, the meat, fish and small goods which arrived on the Glacier completely filled the freezer and everything is frozen solid and shows every indication of remaining that way. Short of a power failure, we should have no more problems.
We appear to have had our fair share of visitors this last month. First the Acheron brought in the remainder of the Land and Survey party and the TV filming crew. This was followed shortly after by the ice breaker USS Glacier. The Acheron had an extremely rough trip down, which necessitated a stop-over at Auckland Island to await a break in the weather. When they finally arrived, all aboard were most grateful for the feel of solid land beneath their feet again and Alex Black took advantage of the first few days in harbour to dry out the cabins and bunks.
The TV crew were most anxious to get on with the job and start filming various aspects of the sheep programme. The re-enactment of the sheep round-up went extremely well and in spite of adverse weather conditions, sufficient film footage was attained to satisfy them. They all seemed to enjoy their stay here and were most pleasant company during their off duty times, although what with three TV personnel and seven additional Land and Survey party we seemed to be inundated with people. Some of these were fed and quartered aboard the boat, so the strain on our resources were not so bad as it might have been. The Acheron sailed again on the 19th taking Land and Survey personnel leaving a total of nine here for the next two months with one more to come on the ice breaker.
Christmas Day and the arrival of the USS Glacier brought the stores, mail, Mr Roper, and Father Christmas in full regalia. All of this proved to be an interesting diversion but unfortunately has to be cut short while the more practical aspect of unloading the ship took precedence. All the frozen stuff was unloaded that afternoon by using the ship's landing-craft and was placed in the new freezer immediately as it was beginning to thaw out. After this the mail was distributed and a mass exodus took place as every one left to peruse the letters and parcels from home.
Next day an early start on the rest of the unloading - as the Captain had invited the whole of the expedition to Christmas Dinner which they had deferred until their arrival at Campbell in order to have it with us at 1600 hours on Boxing Day. As a result of this, all turned to with a will and the job was done in record time. The assistance of two helicopters and the ship's landing-craft made the work a lot easier as the weather conditions were far from pleasant, with blustery winds and rain. The whole job was completed by 1500 hours and we all went aboard for the promised Christmas Dinner which was superb. Mountains of food, turkey, ham, chicken, pies, cakes, fruit, in fact - it was a bewildering display. After we had dined to capacity, the ship's store was opened and those who had the money made quite a number of purchases. In all this was a truly thoughtful gesture and one which was greatly appreciated by everybody here. Unfortunately the weather and the period of stay precluded their ability to accept our invitation to return the hospitality but perhaps at a later date this could be rectified.
Our own Christmas Dinner was held on New Year's Eve and the cook really did a magnificent job of this. There could be no complaints over the menu or the presentation, both of which were first class. Well, the festive season is over, so now we can settle down to the old routine again. The vegetables have all done well, and with the exception of some of the cabbages, are all finished. I have ordered some more plants as I am interested to see if I can grow them over the winter period using the ultra-violet lamps to supplement sunshine. The fowls are all laying and we are averaging 45 eggs per day. The majority of these are being preserved for winter as a standby supply.
Peter Eddy.
***************************
Tucker's ionosphere huts came from the Auckland Islands. In this 1947 photo by Les Attwood the 5hp diesel (cover photo) and 56 x 2 volt accumulators resided in the foreground sheds with the recorder in the far building near the delta aerial.
***************************
WHEN YOU BUY IAN KERR'S new book, would you please make a small amendment to the caption to the lower photograph facing page 116. Andrew Nicholson is on the extreme left and not on the right as printed.
****************************
SECRETARY'S NOTES
Makara Barbeque. An informal family style gathering and barbeque was held at the Makara Community Hall on Saturday 21st February. Although the day was gloriously fine, only about 20 people attended. Those that did not, missed out on a most enjoyable time, with much "island bull" being thrown about and plenty of liquid refreshments, the party finally ending very late in the evening.
State of the Membership
Once again it is time to chase up all those naughty folks who have forgotten to pay their subscriptions. The recent rise in postal charges and increasing costs of publishing 'The Islander' is leaving our bank account rather thin. So please send those cheques in folks - $3.00 for each year to August 1976, thence $5.00 per year. A breakdown of our membership numbers is:
| | | |
| --- | --- | --- |
| Full members | 158 | (70 financial to August 1976) |
| Associate members | 31 | (18 financial to August 1976) |
| Interested Parties | 29 | (Libraries, museums, unies etc) |
| Honorary members | 6 | |
| | | |
| Total | 224 | |
New Zealand Antarctic Society
The Wellington branch of the Antarctic Society have issued an invitation to members of CRIA to attend future lectures, film evenings and talks, similar to that given by Alex Black last month, with a view to possible greater participation by members of both associations in various activities. Later this year a 'volunteer' from CRIA will talk on aspects of Campbell Island to the Antarctic Society and we will also possibly amalgamate with them about June 21st for midwinter celebrations. Advance notice of any such activities will be circulated to CRIA members.
Tony Bromley.
****************************
RAOUL ISLAND RHUBARB by Moki MacGregor
The 1975/6 Raoul Island Expedition members completed their training and briefing and reported on board the R.S.V. Acheron at 1500 hours on 19th October 1975, to be informed that sailing was postponed due to bad weather. We cleared Wellington the following morning with a southerly gusting to 60 knots, rough seas and a heavy swell. Seagulls following had grand pickings in the ship's wake. Conditions improved all the way north and the ship's dining table became more crowded each day. The Sun appeared on the third day out and sunbathing became the order of the day with a tinge of colour appearing on pale torsos.
1100 hours 23rd October: L'Esperance Rock sighted. We then called into Curtis Island to place a datum marker on the cliff face to establish the vertical up thrust of the island. Evidently it has risen 70 feet in the past 100 years. Bart and I crewed the surfboat ashore and the landing party collected fossilised barnacles from 60 feet above sea level. We caught a fine Kingfish and several Kahawai giving the newcomers a preview as to what is available in the fishing line. They were most impressed by this and also by the clarity of the water. Macauley Island was sighted in the evening.
0300 hours, 24th October: We were awakened by the rattle of chain streaming out of the hawse pipe, a quick change and out on deck. We were at anchor in Southeast Bay and in the pale light we saw the outline of Raoul Island ahead of us. Allen Yule and I remained on deck and listened to the Tuis break into their dawn chorus.
0800 hours, 24th October: Arrived at Fishing Rock and nothing in sight. By 0900 the station boat aptly named Chunder came down the foxway and was launched. The personnel and stores were landed and everybody went off to the station. The two chefs were kept busy preparing meals for 33 people including 8 forestry and lands and survey people who were victualled at the hostel. The time between our arrival and Holmdale's on the 27th October was well utilised clueing up opposite numbers in their duties and pre-servicing evening activities.
0730 hours, 27th October: Unloading of Holmdale commenced and our old friend "general cargo" was soon coming ashore in great quantities Trouble was experienced with the winches and the fox as well as the usual number of surf boat breakdowns. On the third day the wind and seas were up and the Rock was unworkable. This opportunity was taken to clean Boat Cove Road of deadfalls and slips in case it had to be used to provide an alternative route for taking off the outgoing crew. Disaster - on the following morning (30th) when inspecting conditions at the Rock the mooring buoy complete with anchor block was found to be right inshore. The Rock was still unworkable so we took our predecessors to Boat Cove with their luggage and embarked them on the Acheron which steamed out of Southwest Bay at 1300 hours.
1500 hours, 31st October: The seas were abating and we commenced unloading drums of fuel, we continued through Saturday 1st November, until 1430 hours when the first boat was hoisted inboard as the seas were getting too rough. At 1620, HMNZS Taranaki arrived and took the shooting parties off with Zodiacs. At last we were on our Pat Malone. The company had been mighty but it was also a crowded mini metropolis.
2nd November: We unloaded the remainder of the drums and began to back load the outgoing stores and what seemed an endless supply of dogs. The previous farmer and chef also departed. We cleared the Rock and secured all gear at 1500 hours. Ten minutes later Holmdale welghed anchor and cleared the island. Dennis the chef was especially elated. We were able to launch the boat a number of times before New Year and some good fishing and photography runs were made to Meyer Is.
6th December: A strange looking vessel steamed eastward off Oneraki Beach and anchored in the lee of Meyer Island. It was the French oceanographic research vessel Le Noroit. She was undertaking a magnetic and seismic study of the Louisville and Kermadec Trenches. We had a number of Frenchmen as guest and five of our party enjoyed French hospitality and cuisine on board. It was crammed with electronics and computers, satellite navigational systems and scientists, and several hours were enjoyed looking over her and her equipment, and sampling French wines. Sixteen of her crew visited the island in three parties and all enjoyed themselves immensely, a gift of wine was received and replied to in kind with pork and oranges.
13th December 1975: Two strangers arrived on the new building site. They had found the track from Denham Bay and were off the Aussie trimaran Unbound, five years out of Sydney. The following day the skipper and "friend" arrived in time to witness a P3B dropping equipment and mail.
16th December 1975: A further airdrop, this time 40,000 rivets flying in close formation at 160 knots dropped in spares, stores, etc.
19th December 1975: Allen Yule celebrated his 21st birthday in the best island tradition with roast suckling pig, ham and limitless food with much vino and equally refreshing drinks - dress and form being a Roman orgy.
Christmas Eve was celebrated with a good party, Christmas Day being a continuation of Christmas Eve with large quantities of food and copious quantities of vino and lager being consumed by all. Once more the Chef excelled himself. Christmas to New Year was spent in upgrading the "Boat Cove Hunting & Fishing Lodge." New Year's Eve and New Year's Day, we went to Meyer Island for fishing and photography. Once more the chef put on a mighty spread with our wine gift from the Le Noroit being dispatched. That concluded the Old Year and we are looking forward to an exciting and rewarding New Year.
Moki MacGregor
***********************
First Government Station on Raoul 1937, was photographed by surveyor Allan Henderson from the flagstaff hill, then known as Matatirohia.

Power to the people on Raoul 1939, was supplied by this diesel generator set.

***********************
OCEAN STATION, 60S - 170E
Undoubtedly what was to become the most unglamorous and uncomfortable phase of the giant American Deepfreeze programme, was the lonely oceanic vigil maintained by the naval destroyer escorts at 60 South and 170 degrees East*. lt survived for 12 summer seasons - from October 1956 to February 1968.
The ships frequently saw the Southern Ocean at its worst. Holding station on a 10 mile grid, they steamed into 30 to 50 foot waves losing their lesser deck fittings to 60 knot winds and numbing the crew members in the near zero conditions. Always they came back for more after unbending in Dunedin's Port Chalmers and many personnel returned year after year. Perhaps there may have been an atom of truth in what one Master-at-Arms meant when he said "it was good to have a rest after the rigors of the North Atlantic."
Their mission was three fold. Firstly they conducted a meteorological programme of two upper air soundings a day, compiling data on wind strength and direction, as well as temperature and humidity of the streaming air mass - from sea level to high altitudes in the order of 20km. Next they maintained the essential radio links with the Deepfreeze aircraft as they passed over the 2500km stretch of ocean from Christchurch to the Antarctic continent, and thirdly they stood - by for the emergency that fortunately never came - sea rescue.
The aircraft that flew overhead belonged to the Navy and Military Air Transport Service. They consisted in type of the Douglas R4D (DC - 3), Lockheed P2V 'Neptune', Lockheed R7V 'Constellation' and the incredibly large Douglas C-124 'Globemaster'. The first ship to serve was the USS Brough (DE 148) when she arrived at station on October 11th 1956. For this first season, she only went as far South as 57 degrees, the Coastguard icebreaker Glacier taking a more southerly position at 67 South on the fringes of the pack ice. As there was no back-up ship to the Brough, flying had to cease while she returned periodically to Port Chalmers for fuelling and reprovisioning. The USS Peterson (DE 152) and Wilhoite (DER 397 ) followed taking up position at 60 South, the station adopted after the 1956/7 season.
As the flying programme increased, it became necessary to maintain the ocean station continually from October 1961 onwards. The New Zealand Navy now assisted by providing the frigates Rotoiti (F 625) and Pukaki (F 424) for the following four seasons. These ships were modified for the meteorological upper air soundings by having the aft guns removed to provide space for a helium balloon-filling 'hangar'. Rotoiti also carried a 3000 fathom winch cable for deep-sea dredging.
For the 63/4 and 64/5 Deepfreeze seasons, the New Zealand Navy requested assistance from the Meteorological Service to provide staff for the daily soundings. Eric Clague sailed with the Rotoiti from the 23 September to 6 December 1963 and Bob Lamb followed on the Pukaki from 28 September to 26 November 1964, both being ex-Campbell Islanders.
An attempt was made by the USS Peterson to set up an automatic weather station l500km south of New Zealand in the latter months of 1959. Ideally the gadget would transmit wind direction and strength, sea level atmospheric pressure, and air and sea temperatures in code form every six hours. The whole device was contained in a 10 metre cannister and dubbed a "weather-fish". It was moored at 600 fathoms above the sea bottom near the pack ice. Bad weather prevented the first launch and the second was blighted by unserviceability after the Peterson had returned to 60 South. It was later serviced but its life expectancy of 3 months turned out to be a miserable 4 days. The project was shelved and a plan to launch a further four 'fish' the following season was abandoned.
As the seasons rolled by, the thundering 'Globemasters' and oil spewing 'Constellations' began to slowly disappear from the skies. They were being replaced by an amazingly versatile military turboprop aircraft, the Lockheed (C 130) 'Hercules'. It flew high and fast and without fuss. Its navigational instrumentation and superior communication installations spelt the end to the weary picket ships below. The final two to serve were the Calcaterra (DER 390) and Mills (DER 383) during the 67/8 Deepfreeze season.
In retrospect, they ware handsome ships, somewhat narrow-gutted, but with a yacht-like flare of bow and a correctly raked stack to tell their speed. During their 12 seasons of service, they collectively entered Campbell Island's Perserverence Harbour over 100 times. The expedition members on this island learnt to rely on them for mail, fresh food and friendship.
There is little doubt that Operation Deepfreeze today is a little poorer by their disappearance - not financially, but in character.
*The longitude of l70E was not always adhered to. The New Zealand frigates sometimes resided at l59E and the Calcaterra and Mills were known to use 158E . However most reference s are to 170E.
1963/64 PICKET DER HISSEM was under the command of Richard Fontaine and serviced Campbell Island ten times during the Deepfreeze season. She is one of six remaining DERs in the US Navy. (US Navy photo)
PICKET FRIGATE HMNZS PUKAKI served during the 63/4 and 64/5 Deepfreeze seasons, entering Perserverance Harbour on ten occassions. She was sold as scrap in Hong Kong during September 1965. (official NZ Navy photo)
USS Buckley, nameship of the TE (turbo-electric) class of DEs. Note the Oerlikons on the fantail and the after pairs of K-guns moved forward to clear the guntub.
DER conversion of Edsall (FMR) class ship. Note retention of original smoke stack. Close range AA armament varied from ship to ship and is not shown here.
LINE DRAWINGS: of the Buckley (DE) and Edsall (DER) classes are reproduced from Peter Elliot's "American Destroyer Escorts of WWII" a 1974 Almark (London) publication loaned by Ian Kerr. The Edsall class was evidently identical to the Buckley prior conversion, apart from the smoke stack arrangement shown in the insert.
THE AMERICAN DESTROYER ESCORT: Early in the Second World War, the Royal Navy requested American production of a relatively fast naval escort to combat the growing German U-boat menace in the Atlantic. By late 1941 the Americans had responded with the necessary design and first contracts were let, and in 1943 during the height of production, 18 yards were involved.
1000 DEs were initially ordered but only 565 completed. Of these 475 were commissioned in the US Navy, 78 in the Royal Navy as 'Captain' class frigates and the Brazillian and French navies absorbed the last 12 during 1944-5.
As radar reached a more sophisticated level during the latter years of the war, a picket or watch modification was applied to the surplus escorts. 58 DEs were thus converted from 1945 onwards and re-designated as DERs. Of the familiar Edsall type seen during Operation Deepfreeze, 36 of the 85 total were converted.
The conversion created a marked external change in appearance. A large sparsely port holed aluminum mess deck filled the main deck, two tripod masts were erected to take the radar aerials and the wartime gun installations reduced.
Specifications for the Edsall DE were: Displacement: empty 1200 tons, loaded 1490 tons. Length: 306 feet, Breadth: 37 feet, Draught: 17 feet. Engines: geared diesel, 6000 bhp, Fairbanks-Morse. Speed: 21 knots. Wartime complement: 220.
THE BRITISH 'LOCH' CLASS FRIGATE: was developed for anti-submarine purposes during the Second World War. The New Zealand Government purchased six of these ships in 1948 and they were duly delivered to the Navy between January and August of 1949. The 'loch' idea was retained through the names of New Zealand lakes being applied to the ships at the time of their individual recommissioning.
The Pukaki and Rotoiti were originally the Loch Achanalt and Loch Katrine of the Royal Navy, and are sometimes confused with the similar 'Bay' class frigates which served on the New Zealand station during the early 1950's.
Specifications for the Loch class frigates were: Displacement: 1435 tons, loaded 2260 tons. Length: 307 feet, Breadth: 38 feet, Draught: l7 feet. Engines: twin shaft 5500 bhp diesel. Speed: 19.5 knots. Wartime complement: 114.
***************************
CAMPBELL ISLAND SEAFOODS LTD
exported a modest tonnage of fresh mussels during the summer of 1964/5 by medium of the frigate Pukaki. The largest consignment of six coal sacks was sent out in January, but the predominance of Maori sailors handling the cargo would indicate a very small amount reaching the NZ Customs in Dunedin.
***************************
WESTERN REACHES OF CAMPBELL ISLAND: are seen in this 1962 aerial photograph by Sir Robert Falla. He was travelling to Antarctica at the time in a USAF Globemaster.
***************************
Ships that served at 60 South
| | | | |
| --- | --- | --- | --- |
| 1956-7 | DE 148 | Brough | (*) |
| 1957-8 | DE 148 | Brough | ( ) |
| 1958-9 | DE 148 | Brough | ( ) |
| 1959-60 | DE 152 | Petersen | ( ) |
| 1960-1 | DER 397 | Wilhoite | (6) |
| 1961-2 | DER 387 | Vance | (8) |
| | F 625 | Rotoiti | (6) |
| 1962-3 | DER 389 | Durant | (9) |
| | DER 334 | Forster | (2) |
| | F625 | Rotoiti | (2) |
| 1962-4 | DER 400 | Hissem | (10) |
| | F 625 | Rotoiti | (1) |
| | F 424 | Pukaki | (2) |
| 1964-5 | DER 383 | Mills | (10) |
| | F 424 | Pukaki | (8) |
| 1965-6 | DER 326 | Gary | (8) |
| | DER 390 | Calcaterra | (7) |
| 1966-7 | DER 383 | Mills | (8) |
| | DER 326 | Gary | (8) |
| 1967-8 | DER 390 | Calcaterra | (9) |
| | DER 383 | Mills | (10) |
| | | | |
* denotes number of times ship entered Perserverance Harbour that summer season.
All American ships listed here were commissioned between Aug 43 and Jan 44. Only 6 of the original 475 DEs now remain in the US Navy.
Petersen now stricken from the list, date unknown. Brough stricken from the list 1965. Wilhoite transported the GMD-1A to Campbell in 1960 stricken from list after use as a target in july 69. Forster went to the South Vietnam Navy in Aug 71. Calcaterra was active until stricken from list in July 73. Gary transferred to Tunisa in Oct 73. Vance and Durant were mothballed in 1972 and then stricken from the list between Apr and Aug 74. Hissem and Mills now in Naval Reserve and therefore still on the US Navy list.
Pukaki sold as scrap in Hong Kong in Sep 65. Rotoiti laid up in reserve in 1966.
The editor would like to thank Ian Kerr for the considerable help he gave in compiling this article.
_________________________________
| | | |
| --- | --- | --- |
| | | |
| Larger than usual washout at Raoul's Bells Ravine, photo from late 60's | | An ale quaffing Tony Veitch demonstrates one of the Order's nastier vices |

A quill twirling Ron Craig writes up the 70/71
monastic diary on Raoul