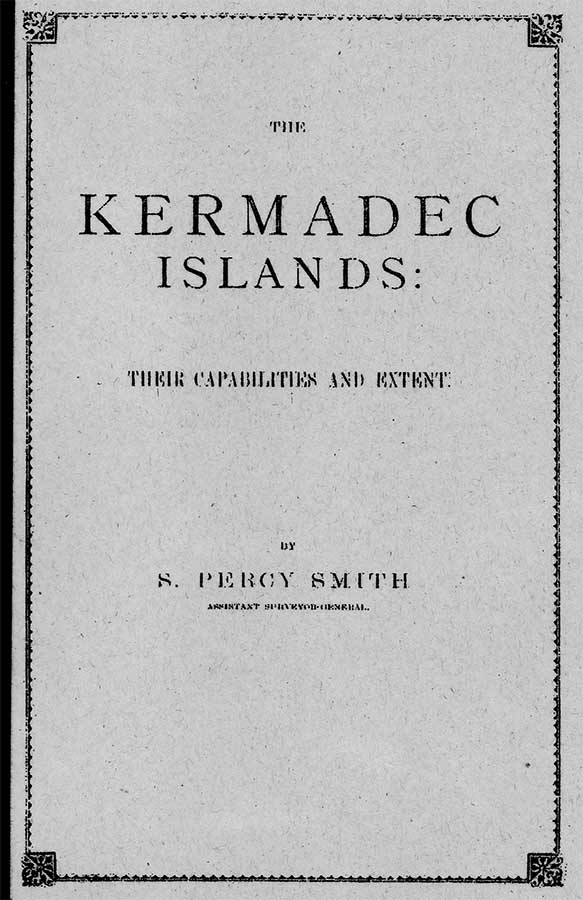 Kermadec Islands: Their Capabilities and Extent
by S. Percy Smith


intended as a Government report as to what use the Kermadec Islands may be to the New Zealand Government after the 1887 annexation.
It has been reproduced in a limited edition of 85 copies by the Archival Reprint Company.
This is the book review as appeared in The Islander Newsletter Number 6
BOOK REVIEW by Peter Ingram
"The Kermadec Islands: Their Capabilities and Extent"
by S. Percy Smith; published, with illustrations,
by the Government Printer in 1887.
Over 80 years ago, George Didsbury's rumbling printing press turned out a small red cloth-bound book which still remains the Kermadecs' most complete and accurate history under a single cover.
S. Percy Smith researched a century's events of the region, and with the precision of a surveyor, which he was, put his facts together with convincing sources of reference, and went to press. Nevertheless, he admits to ...... "a difficulty in obtaining authentic and exact information about some periods of the early history ….. but the facts which are related here with respect to the early settlers are reliable, and state all that is in consequence."
The history therefore covers that period from the clumsy approach of the "Lady Penrhyn" in 1788 to the reading of the Proclamation in August 1887, with the hint of brief Maori occupation in the Kermadecs many centuries previously. (This latter point is covered in Sir Peter Buck's "Vikings of the Sunrise").
In the final pages of this factual "on the spot" account, Smith has little trouble in taking the reader back 80 years and showing him around the Kermadec Group, a fortunate literary accident of historic works written in the present tense. With some foresight he overcomes the obstacle of transporting supplies between coastal landing areas and solid ground above by stating ….."that this difficulty may be to a certain extent obviated by simple means in several places by making use of a wire rope, one end of which should be anchored out and the other fastened to the top of the cliffs, and down which cargo might be transported as on a wire tramway. This would be possible in several places, and further, both at Fishing Rock and Boat Cove, cargo could be frequently shipped by means of a crane which would lift it beyond the wash of the waves." His phrase "DOWN which cargo might be transported" points to his interest in the possibility of tropical fruits being grown for the Auckland market.
Naturally, this is rather a difficult little book to come by. In Wellington, the Turnbull Library has copies, and in my case, J.A. Henderson lent me his personal copy for reference. For a good keen Raoulite, it's well worth the finding.