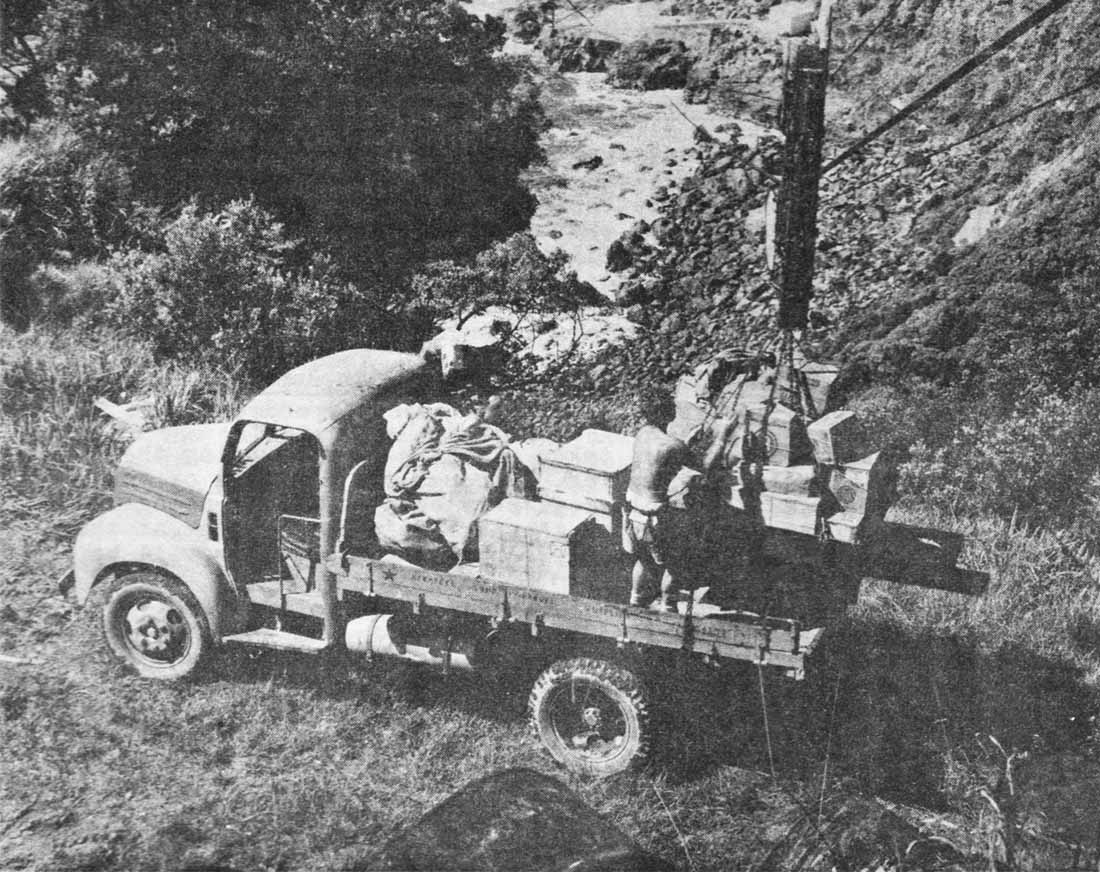 Perkins powered Ford Thames was required for express transport from hostel to foxway during the 1960's on Raoul Island. Side boards on the truck's tray show that it is the property of the Kermadec Sand & Gravel Supplies Ltd. In this Navy photograph farmer Trevor Ross prepares another load for export, possibly on the frigate Rotoiti during her 1962 visit.
CAMPBELL-RAOUL ISLANDS' ASSOCIATION (INC.)
NEWSLETTER Vol 3 Number 4 MAY 1977
Association Officers 1976 - 77

Patron
Air Vice-Marshall A. H. Marsh C.B.E.
President
Richard Lovegrove
| | | |
| --- | --- | --- |
| Secretary | | Treasurer |
| Tony Bromley | | Paul Frost |
| | | |
| Committee | | Honorary Members |
| Peter Goodman | | M. Butterton |
| George Poppleton | | H. Carter |
| Tom Taylor | | Capt. J. F. Holm |
| Fred Knewstubb | | I. Kerr |
| Noel Caine | | C. Taylor |
| Bob McVinnie | | H. W. Hill |
| | | |
Newletter Editor
Peter (Pierre) Ingram
"The Islander" is the official quarterly bulletin of the Campbell-Raoul Islands' Association (Inc.) and is registered at the Post Office Head­ quarters, WELLINGTON, for transmission through the Postal Services as a magazine. All enquiries should be addressed to: The Secretary, CRIA (Inc.), G.P.O. Box 3557, WELLINGTON. Contributions to the bulletin should be forwarded to the Editor, CRIA (inc), G.P.O. Box 3557, WELLINGTON, and subscriptions to the Treasurer. Current membership rates are $5 per annum.
__________________
ANNUAL FILM EVENING
Saturday 25th June, 1977
The committee once more takes pleasure in announcing the Association's Annual Film Evening. Through the courtesy of the Director of the N.Z. Meteorological Service, we will be using the Lecture Hall on the 3rd floor of the Service's Head Office at the top of Salamanca Road in Kelburn, Wellington. Two films will be shown:
MACQUARIE ISLAND: 1958, 30minutes colour. Dr Stefan Csordas's story of a year at the island. Servicing by Thala Dan, use of DUKS, station living and full coverage of wildlife.
ANTARCTICA: 1973-4, one hour colour. The latest film on the subject. National Science Foundation's tale of American activities at Ross Island, Pole, Siple and the Antarctic Peninsula.
Some short features will probably be shown if time permits and the evening generally finishes after supper at 10:30pm. No admission charge is made and friends and relatives are very welcome to attend.
ANNUAL FILM EVENING - Saturday 25th June, 1977. Commencing at 7:45 pm. Finishing approximately 10:30pm
ALWAYS A FRIENDLY AND INTERESTING EVENING.
**********************************************
Editorial: PIE IN THE SKY (and Champagne)
Perhaps it was not such an extraordinary event for these modern times, but the recent airlift of some 1200 people during February of this year to observe the beauty of Antarctica was a compliment to the flexibility of two national flag carrying airlines and certainly the cleanest environmental exercise in tourism to date.
Australia's QANTAS led the way on the 13 February with a Boeing 747B carrying 300 passengers, who either paid $230 each Economy or $295 First Class for the 4,800 mile trip. The airline's second effort came on 20 February when the same Macquarie Island, Mawson Peninsula, South Magnetic Pole route was used. Observation height around the Antarctic coastline was 1000 metres. A further 140 sightseers in a privately chartered Boeing 707 did a low pass down the Victoria Land coastline to 75 South before returning to Melbourne.
Air New Zealand, using DC-l0s, carried 232 for ·their first flight on 15 February and 220 passengers during the second flight on 22 February. At $245 a seat, the 4,970 mile trip crossed the Auckland and Balleny Islands, pivoted at 78 degrees South to take in Ross Island and the Ferrar Glacier and returned northwards over Victoria Land to Campbell Island and finally Christchurch.
Very much part of the gamble with these ventures is just what will the passenger see ? The sighting of the sub-antarctic islands has only about a 20 per cent chance, for even if normal oceanic coverage of cloud common to these latitudes is not observed, it is a fair bet that the islands have sufficient altitude to generate their own veil for privacy. Sufficient meteorological information should be available to make some show of success of the Antarctic end. If unpredictable cloud movement does cover the target area before arrival, then crew and aircraft flexibility should be able to create a satisfactory diversion to some other region on the continent.
However, the attractions for the New Zealand based trips are obviously centred around Ross Island and the adjacent mountains, glaciers and 'dry' valleys on the continent to the West. If these features were not to be revealed - then it would take more than an aircraft load of champagne and Peach Erebus to fully compensate the disappointment felt by passengers.
In its first season of operation, it has been interesting to note who the ticket buyers have been. Certainly there is the scientific inclined sector and descendants of early Antarctic explorers and expedition members. And a scattering of couples keeping two unique holidays ahead of the Jones. But in the main, they appear to have popped out of suburbia, the rural scene and the bush in some cases, all with a common and cheerful level of adventure and a simple verbal explanation, "What a good idea."
Reference: "First Day Trips to Antarctica", 'Antarctic' p35 March '77.
*************************************
DMS's VISIT
As the annual Makara barbecue got underway on Saturday afternoon of February 5th, Richard Lovegrove who had cleared our mailbox coming across town, handed me an airmail letter from Australia. The writer was our Patron, Air Vice-Marshall Anthony Marsh, stating that he would be in Wellington to attend the New Zealand Medical Conference and had hopes of seeing some of the lads before moving on to Auckland.
Sure enough, that was easy to arrange and quite a group turned up to see DMS (a nickname bestowed upon him many years ago in his Air Department days - from Director Medical Services) down at de Brett's in Lambton Quay.
In the days that Tony looked after us with all our aches and pains, he played a dual role - that of Director Medical Services (AIR) and Principal Medical Officer (CIVIL) from 1945 to 1966. On retiring after 24 years of service life in New Zealand, he accepted a position with the RAAF and rose from the rank of Group Captain to that of Air Vice Marshall. This was to be a four year contract (1967- 1971) with the evacuation of wounded Australian troops from the Vietnam War as a primary responsibility. Lockheed Cl30 'Hercules' aircraft were adapted as carriers and some 2500 wounded were moved over the period.
Finally, civilian service was to follow, and in 1971, he joined the Australian Department of Health. Based in Canberra, he specialised in toxicology and for a spell was relieving Director of Health for Western Australia. He left the Department only last year to take up work as the A.C.T. Police Forensic Medical Officer and it is with this position that he still resides in Canberra.
**************************
BILL HUGHES RETIRES
With characteristic twinkle and merriment, long serving Association member Bill Hughes was in there keeping up with the best of them at DMS's February welcome. Bill cast off from MOW last July and I am only just recording the fact now.
He joined the MOW in 1940 (then the Public Works Department) and served his 36 years with them, based in Wellington. In 1954 he became the Building Superintendent for all that gives shelter on Raoul and Campbell and his many trips back and forth to these islands have become too complex to number.
And so it came to pass that Bill had done his stint by the 2nd July 1976 and departed District Office (Wellington) with the kind of function normally reserved for a successful homecoming of an All Black team. Seems they booted him out of his office and turned it into a bar, complete with professional tap pullers operating out of a mini-tanker parked near the window. Someone found a piano and brought that along too and as soon as the place was packed, they let him back in again.
All that was a.m. of the 2nd and by late p.m. of the 3rd, Bill had shaken some 350 sets of right hands and was getting a little sleepy. The only sad note was the fact that the Editor who had made a note of the date sometime earlier - clean forgot about it when the time came.
***************************
ROADMAPS FOR THE SKY
Many years ago, 26 of them, an RNZAF Catalina flying boat was urgently recalled from Fiji's Lauthala Bay with instructions to repatriate a very sick T.P. Hammond from Campbell Island (Vol 2, No 12, Page 275). The aircrew, being somewhat new to the Southern Ocean, were treated to a film on Campbell Island at National Film Unit's Miramar studio during their hasty Wellington stopover.
The final authority on the oceanic signposting of 425 miles of stormy water was to be a copy of the "Cape Expedition", that classic collector's evergreen turned out by Aerodrome Services in 1945. Brought aboard by (then) Wing Commander Tony Marsh, it sat near the navigator's table in a flight that was to become famous for its broken bones and airframe parts.
And not even the flexible construction of this copy of the "Cape Expedition" could save it from partial destruction. An early bout of turbulence emptied a hot mug of military pea soup all over the cover and the dull scars of the following corrosion are still very apparent to this day.
This journal of wartime endeavour was recently presented to the Association by Tony Marsh and is at the moment in my care. It will later be catalogued into the Campbell-Raoul Island section of the Meteorological Service's head office library.
****************************
KNIGHTHOOD
Most of our members, especially those from the Cape Expedition days, must have taken pleasure from the country's recognition of Dr Charles Fleming's services to science and conservation. By the New Year Honour's List, Dr Fleming became a Knight Commander of the Order of the British Empire and was formally knighted by the Queen during her recent visit to New Zealand.
Sir Charles has now retired from his position as Chief Paleontologist of DSIR's Geological Survey, but evidently intends to retain his Wadestown address.
As author of some 350 scientific publications, he has earned many distinctive honours. He became a Fellow of the Royal Society of New Zealand in 1952, was awarded an O.B.E. in 1964 and went on to become a Fellow of the Royal Society (London) in 1967. In 1973 he had the rare privilege of being made a member of the American Philosophical Society, Philadelphia, a distinguished group limited to a membership of 200.
Sir Charles served as a geologist and coast watcher at Carnley Harbour, Auckland Islands, during the station's first year in 1941. Perhaps it is a fitting time to remember the coastwatchers and capture a little of the atmosphere in which they worked. So we devote our next few pages to them:-
*****************************
YESTERYEAR: Life and Times of the Cape Expedition
A full account of the formation of the Expedition and their duties from 1941 to 1945 is contained in Chapter 10 of Ian Kerr's History of Campbell Island. It will be found in 'The Islander', on page 278 of Volume 2, number 12. Here for the record, we list the expedition members over these war years and reprint a piece of naval intelligence which must have kept the lads on their toes in early 1941.
The First Year - March 1941 to March 1942
No 1 Station
G. Jones
Leader & Surveyor
(Port Ross)
E.F. Doley
G.L. Young
Rasio Operator
No 2 Station
A.M. Fletcher
Leader & Surveyor
(Carnley Harbour)
J.D. Knowles
E.F. Pollock
B. Evetts
Radio Operator
No 3 Station
L.J. Stannaway
Leader & Surveyor
(Campbell Island)
E.W. Mitchell
R.F. Wilson
N. Trustum
Radio Operator
Ranui
W.R. Webling
OIC Auckland Is.
(Waterfall Inlet)
T. Pock
Engineer
J. Ohlson
A.L. Duthie
The Second Year - March 1942 to February 1943
No 1 Station
H.P. Hanify
Learder & Surveyor
(Port Ross)
G.L. Pritchard
N.A. Hart
R.H. Lopdell
L Seebeck
Radio Operator
No 2 Station
A.D. Crookenden
Leader & Surveyor
(Carnley Harbour)
C.A. Fleming
Geologist
B. Challis
C.G. Anderson
J. Douglas
Rasio Operator
No 3 Station
L. Clifton
Leader & Surveyor
(Campbell Island)
J. Sorenson
Naturalist
W.S. McDougall
T. Cameron
E. Cahill
Radio Operator
Ranui
G.E. Lindsay
OIC Auckland Is.
C.S. Wright
Engineer
R.C. Preston
Land stations serviced in both years by Auxilary Schooner Tagua
The Third Year - February 1943 to January 1944
No 1 Station
Dr R.A. Falla
OIC Auckland Is.
(Port Ross)
L.H. Pollock
E.F. Doley
R.W. Balham
Meteorologist
J.S. Jones
Radio Operator
No 2 Station
S.W. Blow
Leader
(Carnley Harbour)
D.A. Paine
W.S. Dawbin
Naturalist
D. McNabb
Meteorologist
S.G. Hancox
Radio Operator
No 3 Station
J.D. Knowles
Leader
(Campbell Island)
J.H. Sorenson
Naturalist
J.H. Trigger
A.L. Duthie
Meteorologist
W. Ineson
Radio Operator
Ranui
L.B. Lindsay
Master
(Waterfall Inlet)
E.W. Mitchell
Engineer
A.L. Carlsen
O. Ottosen
G.E. Lindsay
Relief to Ottosen
Land Stations serviced in by Tagua, out by New Golden Hind
The Fourth Year - January 1944 to January 1945
No 1 Station
D.A. Paine
Leader
(Port Ross)
E.G. Turbott
Meteorologist
G.L. Pritchard
L. Hosking
Radio operator
No 2 Station
R. Pollard
Leader
(Carnley Harbour)
N.A. Hart
B. Stallard
J. Orange
Radio Operator
No 3 Station
L.H. Pollock
Leader
(Campbell Island)
R.W. Balham
Meteorologist
A. Stanbury
Ionosphere Obs.
R. Oliver
Geologist
J. Carlisle
Radio Operator
Ranui
N. Worth
Master
(Waterfall Inlet)
A. Lund
Engineer
C. Carlson
G. Bish
Survey Party
A.W. Eden
OIC & Surveyor
L. Clifton
G. Easton
Land Stations serviced in by New Golden Hind, out by Ranui. No 2 Station was abandoned earlier on 30th May 1944.
The Fifth Year - January 1945 to June 1945
No 1 Station
D.A. Paine
Leader
(Port Ross)
J. Orange
Radio Operator
J.S. Jones
Meteorologist
Ranui
N. Worth
W. Lothian
A. Thompson
Survey Party
A. W. Eden
OIC & Surveyor
G. Easton
J. Wenham
No 3 Station
J. Sorenson
Leader
(Campbell Island)
L.A. Sharman
Radio Operator
J.A. Copp
Met Observer
E.G. Clinker
Met Observer
H.R. Atkinson
Ion Observer
On 3rd June, the Ranui left Port Ross for New Zealand with the Survey and Port Ross parties. Campbell Island continued as a Meteorological Station, the personnel becoming civilians again on the 15th October, 1945, under the control of the Public Works Department and the Meteorological Branch of the Air Department.
************************************
INTELLIGENCE - MOST SECRET: Issued by the Navy Dept. On the 16th February, 1941, an R.A.A.F. flying boat reported two ships steaming on parallel courses to the southward, six miles apart, to the eastward of New Guinea. Although their description did not fit in with the known raiders, it has been assumed that they may have been a raider and her supply ship and various dispositions have been made accordingly. No further news has been heard of these ships.
A German pocket battleship was sighted in the Indian Ocean on 22nd February. Touch was lost with her and she has not been heard of since. The earliest date on which she should reach the Auckland Islands at fifteen knots is March 12th.
ENEMY'S OBJECT: Up to the present the object of all raiders has been to destroy as much of our shipping as possible. It is possible that the object of the pocket battleship is to reach Japan in order to impress the Japanese authorities and public opinion with the power of German warships to defy the British Navy thereby encouraging the the Japanese to start a war against Great Britain and her Allies. This was done very successfully by the German battle-cruiser Goeben in Turkey in 1914.
ENEMY'S POSSIBLE MOVEMENTS: The chief problem of any raider is her supplies, particularly fuel. lf the pocket battleship intends to go to Japan, it is certain that she will need fuel before she gets there and also a suitable place to embark it. It is quite possible that she might employ the Auckland Islands for this purpose and it is suspected that one of the raiders may have done so recently.
OUR OBJECT: Is to destroy or disable the enemy raiders. To do this, we must have intelligence of her movements.
YOUR OBJECT: Is to report any ships visiting the Auckland or Campbell Islands, and to continue reporting without being detected. Your best course of action is therefore to remain unseen if a strange ship visits the Islands. This has already been emphasised in detail in your standing instructions. Even if he hears your wireless transmissions he will not necessarily know where your station is if it is well concealed, nor will it be easy for him to find it by search parties etc. through the bush.
As the enemy might arrive soon after your arrival, it is of the utmost importance to get your W/T working as soon as possible. If he arrives while the Tagua is still in company with you, you must attempt to conceal the real object of the expedition, if necessary allowing him to capture ratings with the Tagua, or pretend she is there on a fishing trip, or adopt any stratagem which you think will throw him off the real object of your party.
*********************************
Book Reviews
FORGOTTEN ISLANDS OF THE SOUTH PACIFIC
Rosaline Redwood
Published by Reeds, 1950
125 pages, illustrated
The title conjures up visions of balmy atolls or islands, bypassed by the tourist industry and perhaps suffering serious economic decline. But no - author Redwood is referring to the subantarctic islands and forgetfulness has possibly been brought about by the sealing industry decline - so her writing suggests.
However, all the islands that matter are there. Bounty, Antipodes, Snares, Auckland, Campbell, Macquarie and Chathams as well as a flock of rocks around Stewart Island. With them come some "new" profiles in the photographic section, which includes an unusual panoramic shot of Macquaries northern end. The well known Fairmile Alert, is also seen sheltering on the southern side of the Snares.
I doubt if Rosaline Redwood ever got past Chatham Islands in her travels, for it is the only area where repeated reference is given of herself. Recording every other island that is slightly akin must have been a disease of the period, as Eden executes an identical deed in his 1955 "Islands of Despair" (Vol 3), page 64).
But it is a handy little book and she appears to have worked hard to shape its chapters despite her sadly deficient bibliography section. A three line reference to Charles Enderby's Auckland Island settlement and a three page essay on the wreck of the Grafton creates a state of imbalance in Chapter 7. Her enshrinement of Musgrave ("Cast Away on the Auckland Islands") would surely have been tarnished had she chosen to check Raynal's more informative account in "Wrecked on a Reef".
The Chatham section occupies the final quarter of the books length. It is a concise and accurate account of the island's anxious and semi-progressive times. I was pleased to see adequate space granted to Chatham's pretty southern sister, Pitt Island, and the author's Moriori descriptions have a good educational level.
But apart from this latter section, there will be little to be learnt by students already at work on these "Forgotten islands of the South Pacific".
Pierre.
*********************************
1963/64 Expedition photographed by the 'Evening Post' after the team's arrival back in Wellington on the Holmburn. Standing left; Dave Leslie, Alan Wood, Don Pallot, Campbell Harkness, Richard Lovegrove, Gary Henderson, Kneeling left; Owen Todd, Ian Johnson (holding pup Raoul), trevor Ross (holding mum Gaye).
*********************************
THE ISLANDS REPORT IN ………..
Raoul Island: (6.12.'76)
Once again another annual servicing finished and a new crew taking over their respective jobs on the island.
We left Wellington on 5th October at l800 hours on the Acheron and no sooner were we past the Heads, than one of the crew fed the fish - and as we progressed towards Raoul, several others joined him including one of the Inspectors. It wasn't Ian Bell (S.C.R.&C. - Ed) either. He was too busy entertaining those of us that weren't sick with his witty quips.
Arrived at Raoul on 9th October at 1130 hours with most of the lads somewhat green about the gills after sailing in that very 'stable' ship. Had a couple of days to settle down with Evan McGregor and his team before the arrival of the Tui and Holmdale. The Tui was supposed to arrive a few days before the Holmdale, but there must have been a slight lack of liason (SNAFU) along the line as they both arrived together. However, many hands make light work with the 3 Land & Survey, 6 Forestry and 2 DSlR chaps all helping. Two days later, both ships and Evan's crew were on their way back to New Zealand, leaving us with a mountain of goods to clear away. Thought we had the DSIR, L&S and Forestry gear in separate places, once again a slight SNAFU. L&S had the bright idea to put a dash of orange paint on their gear so it would be easily recognised. Blow me down if the DSIR team didn't have the same idea and same colour too. However, everything sorted itself out.
Remainder of October was spent putting away stores, etc, and finding our feet. Have been here two months now and feel we are almost old hands. October saw no visitors, but November and December to date has seen quite a few: 9.11.'76: Yacht Sunnivor, husband and wife and two small kids. 19.11.'76: Yacht Regentag, owned by one Friedensreich Hundertwassar, a well known Austrian painter. 26.11.'76: HMNZS Canterbury, which threw another eight emigrants at us swelling the Island population to 27 until it returns from Tonga on the 7th December and takes off all the extras - leaving us to ourselves.
One thing you ex-Raoul Islanders will be pleased to hear is that the Canterbury flew in a new 12' x 12' hut to Denham Bay for the Land and Survey team, so we now have a Motel there as well as at Boat Cove.
2.12.'76: Yacht Nerisha from Australia, that has been around the world. Husband, wife, daughter and son as crew. Then we will have the Canterbury back on the 7th. So instead of peace and tranquility - we will have multitudes marching around the island again.
Apart from all the disruptions we have had our brighter moments like 5 birthdays and a send-off party for all those leaving on the Canterbury. A few typical things that could only happen on Raoul: Our handyman, stepping out the door in typical Raoul attire, unaware that a lady off one of the yachts was there. And the OIC and L&S driving to Boat Cove in a dream, saw a person coming towards them. And the OIC, trying to work out which one of the locals it was, when he realised it was too large around the chest for a male, can't print what he said to the carpenter. Needless to say, he nearly drove off the road also. Yacht had anchored at Boat Cove and crew had decided to walk to the Hostel. Daughter out in front, Mum, Dad and Son following up. Mother decided to return to Boat Cove to keep an eye on the boat while the rest carried on to the Hostel. Can imagine the ribbing the OIC got from the boys when he got home.
John Trotter from the Land & Survey team, walking along the track on top of the hill from Denham Bay thinking of other things, startled at the sight of bod sitting in the middle of the track twiddling the knobs of various pieces of radio equipment. Think he must of thought that the Martians had landed. Turned out to be Martin Cook trying out some new gear that he had brought up on the Canterbury (SSB transceiver, Vol 3, page 71 -Ed). What ho, then lads. May get some new transmitting equipment one day and actually be able to speak to Wellington clearly. That will upset the met boys here. No more poor reception excuses on Saturday night.
No doubt Met lnspector Bill Craig will be making a call on Ian Bell at the R & C Section telling him to get the bloody clutch fixed on the fishing Rock crane. Some of the boys took him out fishing and of course the clutch slipped when he was in the basket. Never mind Bill, your feelings will dry out.
Laugh of the week. The other Met Inspector, John Falconer, after getting the new table fitted in to the met shack, decided to get the old one repaired and put back, just in case the met boys wanted to do some extra work. No harm in being an optimist, John.
On the sadder side is the phasing down of the station, only 9 of us this year. It is a shame to think the farm will be scaled right down at the end of our term after all the money and time that has been put into it.
Regards, Ian McGregor.
Raoul Island: (12.3.'77)
Christmas and the New Year passed through blurred vision in the usual island fashion. By all accounts they enjoyed Christmas dinner and we had our New Year's Eve party under clear skies, bar B. Q. style. Having got over that we had a visit from the Russian research vessel Kalisto. She stayed at Raoul from the 9th to 15th January - and what a stay. Most of the scientists spoke good English and one of the back-up crew spoke German and I speak the lingo, so Russian, German and English were heard on Raoul for six days. All Raoul Islanders, 1976-7 version, can now drink vodka Russian style. Practice makes perfect. On Saturday 15th they sailed to Fiji and 9 islanders were left suffering from withdrawal symptoms.
Apart from Mike's birthday party, life has quietened down with everyone getting on with the works programme. We don't know how it happened, but a few drag queens gate crashed Mike's party. This all occured in the soap store and we are hoping that we don't run out of toilet paper.
Raoul Island Bottling Company continues to produce a fine selection of wines. 'Raoul Island Red' should be flooding the market any day now. The Raoul Island goats have started an anti-human campaign. They somehow buried our water supply spring outlet with their hooves. Paul Sharpe is planning a campaign of his own. Perhaps he will be able to add 'Shooter' to his name. The garden is looking good with the weeds taking a firm grip with the cabbages holding second place.
To get serious again, the Raoul Island Roading Company has been at it with the Boat Cove Road being widened and leveled. Well, good people, that's about the news up our way, hoping all is well your way.
Jim Barnes.
The RD-7, normally regarded as square because it could not dig rock, disproves the legend with this king size boulder loosened by earthquakes during March 1963 - photo: Richard Lovegrove.
Nameless truck above must belong to the 1950's, and shows a low slung V8 power plant. Milk can on front was used for salvaging cows run over on Raoul's streets.


Stern shot of skipper Harold Gelmor's Ariel was sent in by mechanic Marcel den Haan. The trimaran visited Raoul in 1974
__________________
Campbell Island: (11.2.'77)
"What on earth will I write about?" was the immediate reaction to the Island's Mag screed affair. "Tell it like it is, man," was the only palatable advice I got. So that's what we'll endeavour to do. We arrived of course like all of you ex-islanders, wobbly on our legs and some looking like cot cases. We had been held up in New Zealand because of industrial strife and were no keener to get here than our counterparts were to go home. The Holmdale was another two weeks in coming so the scramble to have it unloaded was only just short of hysterical. In the meantime with the aid of 14 foremen and 3 labourers, we rebuilt the footing of the wharf crane with the (mostly ignored) advice of Derek Chisholm who does impressions of a M.O.W. engineer sent especially for that task.
We weren't able to completely strip away the old footing so she's a temporary job folks and will only last about 20 years. Since we saw the last of that lot, life has sailed by with only occasional high spots to break our quiet and serene pace. Not having much of a works programme, we're pretty leisurely in our approach. Tramping here has been actively encouraged and to that end we have built an annex onto the Bull Rock hut with nearly everybody helping to grunt the materials up. As they say in the vernacular "She's a beaudy mate."
Of course returning to Beeman after humping a 60 or 70 pound pack is a breeze. So efforts were made to reduce the alleged 2 hours 14 minutes for the trip. I should add that none of us could believe it. Now would YOU believe 1 hour 46 minutes? Yep. Done by no less a person than Swamps Crompton with David Pun Alton who passes for another Met choge. Also in the outdoor activities list is a feat we believe to be a first. Four of our prize idiots completed the oft talked about "Peaking" trip, that is, all 15 named peaks to be climbed in one sitting or walking.
Mark (Swamps) Crompton, Paul (Strider) Mooney, Keith (Twiddles) Pagel and David (Pun) Alton all stand accused of wasting 30 hours and 6 minutes of Ministry time with peripatetic activities. The order of attack was Beeman, Filhol, Honey, Puiseux, Eboule, Dumas, Paris, Yvon Vollarceau, Menhir, thence to Northwest Bay hut for a nosh and wee bit of a rest. The weather to this stage had been not to good and they arrived at the hut at 0230 hours in a 'howler.' The northern half included St. Col, Azimuth, Fizeau, Faye, Lyall and Moubray. That's what I call a solid day's outing.
For the whole crew, we've chalked up a total of 230 man days out of camp, up to 31st January, that is, so you can imagine that the huts are well used. We are thinking of putting traffic lights in on the Azimuth Saddle. Weather-wise, the gods have been kind to us and November was the driest month on record. Most of the bad weather has been due to certain unfriendly types hexing the Met enclosure when some of us go 'bush' for a few days.
We have a 'gadget man' with us in the form of Norm 'Gas Axe' Hill, our Mechanic/Handyman and the station has definitely benefitted for his being here. Old equipment, unused and rusting suddenly comes alive under Norm's ministrations and he's forever building new odds and ends. A 'carry tray' for the Holder tractor was the first, and future Inventories will have no small number of items marked 'Local Manufacture.'
Ray (Squirrel) Brown is our Technicat this year and February 7th saw him suspended from the crane for a dunking as part of his 21st birthday celebrations. He was presented with a locally made key of course and we all wish him well.
We've had our share of visitors, the first being the USCGC Burton Island on January lst, with the ever welcome mail and a large quantity of aggregate for new wharf piles. This was considered to be much more important than fresh fruit and vegetables apparently. Unloading commenced at 2100 hours and was completed by 0300 hours, where upon we went on board for nosh and movies. Their movies, incidentally are nearly as bad as ours, but we enjoyed their hospitality anyway.
Peter (Super Pun) Dilks of D.S.I.R. Ecology Dept., arrived on the Burton Island to count Alberts and sheep and "to pain us sadly with a barrage of the most hideous puns ever to be inflicted on innocent lads. Still, we've been just as glad to have him amongst us as we will be to see him go on the next available ship.
On January 17th, at 0300 hours, the Fisheries Research Ship James Cook arrived and visitors started coming ashore quite early. Three of us went out on the Campbell Shelf with them to observe them trawling and on returning at 1300 hours, battle commenced, fought savagely and without mercy on the pool table and dart board with breaks (not infrequent) only for refreshments. A couple of us escaped to the Captain's cabin for an evening's jazz and at midnight a truce was called to exchange prisoners and wounded. The entire shambles was considered a draw and they sailed, Lord knows how, at 0400 hours. A thoroughly enjoyed visit.
Have you heard about the poor Aurora ? She died you know. Suffered from a photograph of a hole in her bottom during a storm at servicing. The Holmdale took her body back to Wellington where we hear that she has been treated to recovery and is anxious to come home. Bless her bilges.
Mention should be made of a significant farewell to Campbell Island with the North Wind. Mark Crompton will be going off for last time having been here three times totalling 4 and 1 half years. His salary has been paid under the Met banner, but ex-islanders who remember him will know of his intense activities in the bird-banding programme. Besides pursuing that, with no small amount of enthusiasm, he has been also involved in a variety of little talked about studies including his precious water tables and tussock measurements. Remembering that our prime objective is to collect data of one form or another it must be agreed that Swamps has certainly done his share. He is retiring from the Met Service at the end of his tour and as he would have us believe, they're losing the 'cream'. Good luck, Swamps.
The party this year consists of:
Noel
"Ocker"
Winterburn
Officer in Charge
Norm
"Gas Axe"
Hill
Mechanic & 2ic
Gary
Innes
Cook
Peter
"Harpic"
Turner
Ion Observer
Paul
"Strider"
Mooney
DSIR Tech
Dave
"Pun"
Alton
Senior Met
Keith
"Twiddles"
Pagel
Met Observer
Martin
"Spud"
Murphy
Met Observer
Wayne
Kelliher
Summer Met
Mark
"Swamps"
Crompton
Summer Met
Peter
"Super Pun"
Dilks
Naturalist
A summary of the station so far would have to include words like quiet, steady, peaceful and an outsider might even say unstimulated, but if you were to accuse us of being happy - to a man we would stand guilty.
Noel Winterburn.
(Thanks lads. Next 'Islander' comes out around August so don't forget us hacking it back in New Zealand with no Hard Living Allowance. Your Envious & Aging Editor)
Radio Tech Ray Brown surveys Perserverance Harbour from a low angle during his 21st birthday celebrations on February 5th this year.

Light Mantled Sooty Albatross passes Dr M.F. Soper's lens during his 1970 visit to Campbell Island.
*************************
IN MY VIEW by Sirius
Oil Exploration:
I noted in recent newspaper articles that Hunt International Petroleum Company intends to drill for oil on the Campbell Plateau. This will be under terms and conditions of the Government issued oil drilling licence which states that drilling must commence prior to 30th September 1979 in this area.
As a concerned 'Islander', I am not in favour of oil exploration near Campbell: Island without adequate safegaurds to prevent blowouts such as happened recently in the North Sea in the Norwegian sphere of influence. In fact, I am not altogether happy with exploration in any form in or near Campbell or Raoul Islands. However, with regard to that perennial weed , 'the economy', New Zealanders must ensure that all risks of blowouts and other ghastly events are minimised and the price of complete environmental protection against such catastrophies will be properly borne by all future oil users.
It has not been adequately explained how the oil rig is to be serviced. Although the exploration company will provide all amenities, where will all the equipment be held? Is it envisaged that some of the non-routine gear and spares be stored at Campbell Island? If so, it is going to place an added burden on the shoulders of the officer-in-charge who will have to balance Government backed necessities against traditional environmental protection.
One can well imagine 'Red Adair' types running unchecked through Campbell Island engaged in leisure-time activities. The Government must be urged to ensure that stringent controls are implemented to protect the wild beauty of this island and its defenceless natural inhabitants against the rigours of ruthless technological development.
If the projected reduction of island staff occurs through the dedication of better weather satellite coverage, then the task of protection becomes even greater. Perhaps a Wildlife officer should be stationed at Campbell Island or on the rig to over-see environmental considerations.
Finally, perhaps the rig will be sited sufficiently far from Campbell Island to prevent direct contamination. But imagine an oil spillage driven eastwards at fast speeds, due ambient wind and sea conditions, fouling all in its path - fish, mammal and bird. Thor Heyerdahl stated some years ago that even the centres of the largest oceans are dying from man-made pollution. In the vast South Pacific Ocean, an oil spillage on a large scale would certainly accelerate this destructive process.
"There is a Red Under Every Bed…. "
Members reading the Editorial in last Islander would be interested to know of two new developments on the political scene in the area of staff reduction on the islands, versus the implementation of polar orbiting and geostationary satellites.
It was originally agreed by the Cabinet Economic Committee that Raoul Island staff would be reduced to three men from April 1978 and Campbell to five men from 1981, provided that satellite and computer facilities are adequate at that time.
The first point of interest is the proposed increase in the fishing limit to 200 miles off-shore. When considering Campbell and Stewart Islands, the circles formed by 200 mile radii from these islands, intersect to form a continuous fishing limit area. Control sources within Government Departments handling this increased area of fisheries protection, are concerned that the reduction of staff at Campbell and Raoul Islands would make policing of the new 'economic zone' difficult.
This brings me to my second point - that the present Government is seemingly preoccupied with that Cold War chestnut, the 'Red Threat'. The fact that the Russians have fisheries and scientific craft on the Campbell Plateau, and that Russian naval vessels pass regularly near the Kermadecs on their way eastward suggests to defence authorities that a continued full-strength presence be kept in these areas. It would not take much to convince this Government of the necessity for proper coastal surveillance.
So, in considering the two points above, it would appear that the threat of staff reductions at each island may not eventuate. In fact, the calling for staff both for Meteorological and supporting personnel on these islands for the next expedition implies a full year's term.
That aside, it still appears that the Meteorological Service may be preparing to sacrifice some island staff to obtain the much sort after computer. My only comment on this is "For what should it profit a man, if he gains the whole world, and loses his own soul (St Mark, Chapter 8) ."
*****************************
THE GREAT SKI SEASON OF '75
by Peter Wood
Winter was drawing near and the usual question was frequently being asked, "I wonder whether we will get much - or any snow?" As usual, a sledge or two was constructed just in case.
However, Andy Fraser, a meteorological observer decided to go one better and constructed a set of skis. He obtained a suitable length of timber from an old packing case and cut it into two lengths about four feet long and six to eight inches wide. He steamed the end of each ski and shaped them into rounded tips. The bottoms were heavily waxed and the top surfaces painted bright red. Bindings were attached to approximately the centre of the surfaces, and together with safety straps they looked like a reasonable set of skis.
Well, the snow did come. During the early hours in the morning of mid-Winter's Day, 1975, a cold front passed. The initial hours after the front were fairly typical with a fresh cold southwesterly and hail showers. However, the wind suddenly dropped and a thick layer of cloud moved over. The temperature remained about 1C and snow began to fall. After about an hour, an Easterly sprang up and steadily increased to 30 to 40 knots during the next six hours. After ten hours of wet snow, the wind turned to the South with the temperature dropping to below freezing level, causing the snow to compact nicely. About 4 to 5 inches of snow lay around the camp but it was obvious that the hills would be more heavily coated.
The following day Andy and I set off in search of a good snow field. After trekking up the Dumas Track, a good area was found, although not very steep. Andy fastened the skis to his boots and set off down the slope. Progress was slow as the snow was powdery and parts of the journey were spent upside down. After a couple of heavy snow showers had passed, it was decided to make back to camp.
Lyall ridge was then decided upon, but the next day was cold and stormy with further snow at times. The 24th of June dawned fair so off towards Lyall via the Beeman Track. A really good snow field was found just above the St Col to Lyall Ridge on the northwest face near Lyall. The snow had packed hard with the wind.
Both of us had two runs down the slope and I managed to crash some what heavily on the first run, much to Andy's delight. This was probably due to a lack of edges on the skis, but you can't have everything at 52 South. Two or three treks were made back to this area before the next northwesterly and rain melted parts of the snow field.
Other areas skied on were the North face of Mt Honey and some small areas near camp. The Mt Honey area produced several good snow slopes, but only two trips were made, as it took most of the day to get there and back. No one was really enthusiastic to accompany Andy all this distance and only one Met guy could be away for any length of time.
To my amazement though, the skis didn't break and Andy still has them to this day - although he hasn't been game enough to use them on New Zealand ski fields.
(Thankyou Peter. The Editor would be very interested to record any other ski-ing events of note on Campbell Island over the years. In fact anything of a sporting nature would make a bit of a change within our pages - Ed.)
****************************
HUGE FLOATING PLATFORM FOR SUBANTARCTIC OIL SEEKERS ?
The Evening Post (Wellington) 2.5.'77
Invercargill, May 1 (PA) - Plans are reported to have been stepped up by Hunt International Petroleum Company to extend the Penrod 74 offshore oil search much further south later this year, to shallow waters off Campbell Island, with the use of a huge, permanently moored floating base and helipads.
Inquiries during the weekend indicated that an entirely new type of drilling operation is being planned for areas far south of New Zealand. Some official sources admitted that investigations had been started into the feasibility of a floating base and floating helipads to extend he helicopter operations. In some circles this was described as a 'contingency' measure, but the plans indicate that helipads would have to be at least 90 feet in diameter.
It is not the first time these have been used, and their operation has been established in the areas off Indonesia and West Africa. Plans to check their feasibility for the Southland probe were stepped up in Invercargill last week. Drilling by the Penrod 74, or other rigs by Hunt International Petroleum Company and the Sea Hunt Group consortiums are expected to move much farther south after the next Kawau probe, 150 miles soutn of Bluff.
Hunt International holds licence No 859-864 for the vast southern area, including Campbell Island, and Bounty and Antipodes Islands, which is due .to expire on September 9th, 1979. The consortium also holds licence 834-888 for vast areas of ocean and including the Auckland Islands due to expire on September 30th, 1979. Under the terms of the licence, all areas must be worked during the periods.
Inquiries about the proposed floating base brought a sharp "no comment" from the offices of Hunt International in Invercargill during the weekend. "We are doing this all the time," one of the Americans said, when he was asked if the offshore exploration in southern waters was being planned several wells ahead. Inquiries late last week indicated that various Government Departments, including Civil Aviation had been consulted by an Invercargill civil engineer about various technical factors of a huge floating base.
The discussions, it is believed, also involved a series of floating helipads as 'stepping stones' for helicopter operations over much wider areas of the Southern Ocean. Campbell Island lies about 320 miles south of Stewart Island and the New Zealand Government maintains a permanent meteorological station on the island. The island lies on the western side of the Campbell Island's Rise, which has water depths of less than 200 metres over it. The area was visited by the German seismic ship Prospekta during recent seismic operations.
It is known that for some time the Ministry of Energy Resources in Wellington has been receiving expressions of concern from an offshore islands protection committee indicating opposition to southern islands being used as bases for offshore oil exploration. Storage space on the deck of the Penrod drilling platform is severely limited during drilling operations, and the base is expected to provide storage for the extra equipment, mud and cement, and drilling pipes.
The design being discussed in Wellington provides for a helipad and helicopter refuelling facilities and accommodation with living quarters and radio and weather forecasting offices. An essential specification included in the plans is a requirement for all sewage to be chemically treated and kept intact on the platform for removal by the support vessels. Phillips Petroleum, one of the major consortium partners in the Southland oil search, has a similar but much larger platform at the Ekofisk field in the Norwegian sector of the North Sea. It has accommodation for 220 men, dining, hospital, and recreational facilities, and a helicopter deck and hangar.
__________
GOVERNMENT HAS CONFIRMED OIL EXPLORATION
Invercargill, May 1 (PA) - The Minister of Energy Resources (Mr Gair) confirmed today that the Government intends to proceed with its five well, previously negotiated exploration agreement for offshore Southland with an extension to new potential oil bearing areas much farther south of New Zealand.
….The next two wells for the Penrod rig, Kawau and Campbell Island, will be in entirely separate potentially oil-bearing structures. Mr Gair said each would require more extensive work than the first three wells of Southland, Parara, Toroa, and Pakaha. "A number of firsts are being achieved in the Great South Basin," the Minister said…
The Evening Post (Wellington) 2.5.'77
(For comment, see what Sirius has to say on page 88 - Editor.)
********************************
WILDLIFE ON SNARES ISLANDS
Reproduced from 'ANTARCTIC', Dec '76
Five scientists from the University of Canterbury, including one woman, left Lyttelton aboard HMNZS Taranaki on November 8 to spend four months on the sub-Antarctic Snares Islands, which lie 104 km south-west of Stewart Island. The expedition will study various aspects of the wildlife on the islands and will be based on Main Island, the largest island of the group, which has an area of about 280 hectares.
Dr D.S. Horning, who was formerly a senior lecturer in the university zoology department, returned from the United States to lead the expedition. He will coordinate the research of four postgraduate students, and help them in their projects. This will be his fourth visit to the Snares Islands. Four years ago he and his wife spent 13 months there, most of the time by themselves.
Several members of the expedition have worked previously with the univeristy's Antarctic research unit at Cape Bird on Ross Island, Dr Horning having led the research unit expedition last season ('75-'76). Mr P. Sagar, who is a member of the Snares Island team, was in the Antarctic for his fifth summer last season.
Miss Joy Woods, who worked on Ross Island in the 1974-5 season, will study the fresh water streams of the Snares Islands, which have received little attention from scientists. She will concentrate on the stream chemistry and microscopic animals that may live there.
Mr J. Early's chief field of interest will be life history studies of parasitic wasps, which are unique to the islands. As yet they are without a scientific name. Mr Early was in the Antarctic during the 1973-4 summer.
A marine biologist, Mr G. Fenwick, also worked at Cape Bird in the 1972-3 season. He will study the different marine algae and animals below the water line. His research will involve scuba diving in which he will be assisted by Dr Horning.
Mr Sagar will study Buller's mollyhawk and the Snares crested penguin. There are colonies of these birds on Main Island. He will also study the interaction between a number of birds which nest on the island, and which have similar breeding and feeding habits.
Dr Horning and Mr Sagar will search the island for any survivors of the mollyhawks which he and his wife banded as chicks in 1972. He will also continue his own research on the life history of some insects on the Snares.
(Antarctic trippers of the 70s will recognise a few names here - Ed)
********************************
Don't forget the mid-winter film evening at the Meteorological Services head office lecture hall on the 25th June if you want to see Dr Stefan Csordas's film on Macquarie Island - see page 74, this issue.
********************************
VOLCANIC ACTIVITY ON RAOUL ISLAND - Part 2
"At 0558 hours on 21 November, there was the loud rumbling of a big landslide. The noise seemed to change to a sharper rending sound and when one looked out to the southeast from the hostel, a great cloud of steam appeared over the hill. Within seconds the whole island population was outside with cameras clicking. The volume of cloud increased rapidly till it seemed to fill half the sky and another roaring noise heralded the appearance of a great column of black mud which shot up to 2500 - 3000 feet in the centre of the cloud with rocks flying out of the column and falling back into the crater. It was an awesome but impressive sight. The early morning sunlight lit up the outer rounded edges of the mounting, spreading steam cloud and glinted on the surface of solid objects ejected from the pillar of mud. There was ample time for observation. The first stage of the eruption lasted only a few minutes, but for about half an hour black material continued to erupt to lesser heights and steam clouds billowed up from the crater. The personnel were in no danger during the eruption, the centre being about a mile from the camp over the crater rim and the wind was blowing the ash away to the southeast. Nor was there any feeling of alarm, but probably most felt uneasy about what might happen next and a little apprehensive as to the consequences of this unexpected hazard."
So runs an abbreviated account of A.J. Edgar's record of the November 21, l964 volcanic eruption on Raoul Island. As Raoul is a volcano by birth, the occasion was not unique and there are two other cases in the island's known history. The first occurred in March 1814 and was observed by Captain Barnes from his ship Jefferson. His description of the event is contained in a paper presented by the assistant surveyor-general, s. Percy Smith, to the Auckland Institute as late as 5 August 1895. The paper, in turn, draws reference from the "Sydney Gazette" of 17 September 1814:
"Leaving the island on the 27 February, it was afterwards frequently in sight until the 9th March, when at a distance of 7 leagues (20 miles), a thick cloud of dark smoky appearance was observed above it the whole day, and shortly after midnight, a flame burst forth, which rose to an excessive height, and filled the atmosphere with a strong, fetid and an almost suffocating vapour, which was felt on board, though then at a distance of seven leagues. Captain Barnes returned to the island within two months for the purpose of wooding as before, and found the apperance of the place entirely altered and that an island occupied the spot where so short a time before he had found 45 fathoms of water. It is about 3 miles in circuit, kidney shaped at its outer edge, nearly forming a line with the heads or opposite points of the entrance of the former bay, which lays North and South; and has a bay of its own fronting the ocean, and is covered with a coarse grit. On the near approach of the ship's boats, the water became very warm and at length became intensely hot. It was still smoking and was then evidently an unquenched mass. Its position is not mid-channel, but extends considerably more towards the North shore than the South. A passage through the opening of the North side would be impracticable, owing to the numerous rocks which are scattered through it, but in the South seems rather inviting to vessels in want of temporary accommodation, with a safe anchorage."
The second known eruption was also a fairly violent affair and has been recorded by Captain H.B. Sterndale. He stated that early in 1872, a shattering volcanic eruption tock place at the edge of Green Lake in the central part of the crater basin. It was a 'hot' one. The Covat family was quickly evacuated by a passing whaling ship, which, "seeing the flames", diverted to search for inhabitants. Black cinders and ashes soon burnt back the forest in the south-west sector of the adjacent lake. The subterranean passage ruptured under Denham Bay, and with the sea boiling over a wide area, an island of cinders suddenly broke the bay's surface. The pyramid of steaming debris finally attained a size that was sufficient "to provide adequate shelter for a ship at anchor" and was later named Wolverine Rock after the ship that used it for this purpose.
Sterndale returned in September of 1872, the reason being that "myself and companions having lost our vessel which had foundered at sea a hundred miles off this place …. Some black cinders and ashes were strewn about the margin (of Green Lake? - Ed) but all was becoming green again, Covat's house was uninjured, and the banana trees had fruit on them."
An interesting feature of both the earlier eruptions was the sighting of combustion effects within the column and the jack-in-the-box conduct of the islet in Denham Bay. Perhaps they did not disgorge the enormous amount of mud and ash of the 1964 eruption, as Sterndale remarks on "some black cinders and ashes being strewn about …. but all was becoming green again" after only a few months of the 1872 occasion and no reference has been seen of significant areas of mud or rubble in the central crater area after 1814. But it took a decade for the first reasonable results of return to forest to be noticed through the wide and deep mud coverage made by the 1964 'blow'.
In the times between these great outbursts, Raoul enters a fumerole stage which is ever-changing and of continual interest, even to the more nervous of the Island's temporary residents. The known area of activity has always been along a line terminated by the Denham Bay lagoon in the South and the eastern end of Oneraki Beach in the North. "Poisonous gas holes" and cliff steam characterised the Bay, and hot spots with gloriously coloured muds could be found under dead vegetation near Green Lake before 1964. The Alum Cave under the slopes of Moumoukai steam-bathed the local population for over half a century and Blue Lake responded with regions of muddy bubbling water from time to time. Perhaps the most popular site was the area of heated sand on Onerahi Beach. Up to and including the 1940's, sections of sand could be dug out and the subsequent inflow of water would heat to a comfortable bathing level. Today most of the action and interest is centred around the great scars of the 1964 eruption. The scene is well portrayed by Lynton Diggle's photography in N.F.U.'s "Once Upon an Island" - and who knows when this documentary film will need extensive updating? (concluded)
*****************************
VICE - REGAL VISIT TO RAOUL ISLAND - 15th April, 1964
by Richard Lovegrove.
Any expected visiting ships to Raoul Island warrants a spruce up around the camp, but the pending arrival of HMNZS Royalist with the Governor-General, Sir Bernard Ferguson, his wife Lady Laura, and son Geordie called for that little bit of extra effort.
Royalist arrived and anchored, and the Vice-Regal party came ashore to an island bathed in April sunshine glistening on a glassy calm ocean. The party divided into smaller groups for visits to Blue Lake, the citrus orchard, the farm and the meteorological office, before meeting up back at the hostel for a be-fitting spread put on by the cook as a smorgasbord luncheon. The billiard table fairly groaned under the weight.
A speech of welcome was made by Officer-in-charge Owen Todd and Sir Bernard was presented with a dressed pig. Sir Bernard replied with his charming wit and presented to the island a framed autographed portrait of himself and his wife, and a magnificent dartboard. Geordie had a delightful time, as only an 8 year old can when released from boarding school, bouncing on the beds in the Annex and he assured us all, the island beds were better than those at his boarding school.
All too soon the party had to return to the ship, and 'Royalist' departed with hooters and sirens echoing along the northern coastline. Yet another chapter in Raoul's delightful history had been written.
Standing from left: Campbell Harkness (mech), Alan Wood (met), Gary Henderson (met), Tim Usher (Black Watch), Lady Ferguson, Owen Todd (officer-in-charge), Sir Bernard Ferguson, Captain Brian Turner RNZN (Commander Royalist), Peter Fleming (author and personal friend of Sir Bernard), and P. Gibant (aide-de-camp). Sitting from left: Virginia Lucas (lady-in-waiting), Trevor Ross (farmer), Dave Leslie (met), Geordie Ferguson, Ian Johnson (tech) and Don Pallot (cook).
*******************************