The Bay of Beasts: is a 1965 photograph by Colin Clark of Sea Lions at Northwest Bay, Campbell. Note the typical low altitude Dracophyllum scorarium coverage on Menhir Peak's (200m) NE side.
CAMPBELL-RAOUL ISLANDS' ASSOCIATION (INC.)
NEWSLETTER Vol 3 Number 5 SEPTEMBER 1977
Association Officers 1976 - 77

Patron
Air Vice-Marshall A. H. Marsh C.B.E.
President
Richard Lovegrove
| | | |
| --- | --- | --- |
| Secretary | | Treasurer |
| Tony Bromley | | Paul Frost |
| | | |
| Committee | | Honorary Members |
| Peter Goodman | | M. Butterton |
| George Poppleton | | H. Carter |
| Tom Taylor | | Capt. J. F. Holm |
| Fred Knewstubb | | I. Kerr |
| Noel Caine | | C. Taylor |
| Rob McVinnie | | H. W. Hill |
| | | |
Newletter Editor
Peter (Pierre) Ingram
"The Islander" is the official quarterly bulletin of the Campbell-Raoul Islands' Association (Inc.) and is registered at the Post Office Head­ quarters, WELLINGTON, for transmission through the Postal Services as a magazine. All enquiries should be addressed to: The Secretary, CRIA (Inc.), G.P.O. Box 3557, WELLINGTON. Contributions to the bulletin should be forwarded to the Editor, CRIA (inc), G.P.O. Box 3557, WELLINGTON, and subscriptions to the Treasurer. Current membership rates are $5 per annum.
__________________
CONSTITUTION OF CRIA (Inc).
The following amendments to the constitution were carried in previous Annual General Meetings, but not circulated. The full constitution appears on pages 212 to 214 inclusive of the December 1973 (Vol 2 No 9) issue of "The Islander."
Amendment No 1: Rule 5 - After "with either island" insert "or those people interested."
Amendment No 2: Rule 8 - Insert additional sentence "Those members experiencing hardship through financial difficulties, may personally or by another's hand, make application to the Committee for membership at a reduced rate."
Amendment No 3: Rule 10 (h) - Delete 15, insert 9.
September 1977 The Secretary
______________________
Members are reminded that the Secretary holds copies of most back issues of "The Islander" and that they are available at 20 cents a copy. Those urgently wanting to complete the full series should request a loan of one of the file copies to make the necessary duplication.
The Editor.
****************************************
Editorial:
AN AGE OF EXCITEMENT AND ENLIGHTMENT
In this issue, we have published a few descriptions and observations made on Raoul by the 1907/08 Kermadec Expedition. The technical sections have been omitted as the series of articles were originally written for an evening paper and contain no new information for the modern Raoulonian. But the 'scene-setters' pieces do and they are reprinted for interest and comparison.
This particular expedition was one of noted organisation and sobriety of plan. The camp was constructed with effort and thought so that the scientific programme that would follow would run with maximum efficiency. Well to the south, a sub-Antarctic expedition, though more limited by time, were conducting their explorations in similar vein. They were second generation scientist still in a new land, now settled and dedicated to task after the mid-nineteenth century rush and excitement. This was phase two - the age of the Cockaynes and Cheesemans.
The earlier period was one of rush and in some cases of maximum exploitation of surname. Ian Kerr tells us in his history on Campbell Island of Hooker and Lyall collecting zoological and botanical specimens "with tremendous zeal." James Cowan describes the naked Colenso in the subalpine fields of Tongariro, cavorting through the spikey meadows with his black cloth of religious office bulging with un-named plants and flowers. Excitement and then later enlightment for the curious settlers in their new environment - by newspaper, English periodicals and books – it poured out.
Such were the ways of these early scientific 'stonemasons' as laid the exploratory foundation stones. Today the art is one in delicate mosaics, the pieces being gently manoeuvred into position from the results of countless scientific papers which have long since left the layman behind.
So it may be. But a short walk from the hostel door and one will see the unchanged scene that excited Hooker and Lyall, Cockayne and Cheeseman. Perhaps it fails to excite us now, but there is something in nature which is common to all generations - that the level of pleasure we derive from our natural surroundings is directly proportional to the depth of our observations.
***************************
Island Allowance 1977-78
| | | | | |
| --- | --- | --- | --- | --- |
| General Allowance | | | | |
| Raoul Island | | $1057 | | |
| Campbell Island | | $1583 | | |
| | | | | |
| Location Allowance | | | | |
| Raoul Island | Married | $240 | Single | $120 |
| Campbell Island | Married | $360 | Single | $240 |
| | | | | |
| Total | | | | |
| Raoul Island | Married | $1297 | Single | $1177 |
| Campbell Island | Married | $1943 | Single | $1823 |
The State Services Commission has approved payment of actual penal rate and overtime to the Meteorological Observers for rostered hours worked (except on statutory holidays) on meteorological observation duties. (Subject to final review by S.S.C.)
| | |
| --- | --- |
| Furlough | |
| | |
| Raoul Island | 4 weeks for complete tour or 2 days for each month served. |
| Campbell Island | 6 weeks for complete tour or 3 days for each month served. |
Latest Salaries
1976-77
1977-78
Increase
Officer in Charge
$7798
$8279
$481
Cook
$5833
$6137
$304
Technicians
$6807
$7767
$960
Mechanic
$5997
$6500
$503
Maintenance Officer
$5349
$6056
$707
****************************************
Two for the Ice
Antarctica's South Pole Station is again being staffed by ex-Islanders in the meteorological trade. Keith Herrick (R: 68-69, C: 70-71-72) will be there for the summer suntan but John Waller (R: 68-69) will go on to receive a winter bleaching. Both have completed their Tekapo training week and were last heard of in California where they had been sent to learn the language.
****************************************
LUCKY LADS FOR 1977/78 EXPEDITIONS
from Ian Bell
RAOUL ISLAND:
Officer in Charge: John Coombe, from Motueka. John spent his formative years surrounded by orchards and is not a self employed builder, having 'plyed' his trade in both New Zealand and Australia. He replaces Noel 'Ocker' Winterburn who had previously secured the OIC job, but has had to withdraw for personal reasons. 'Ocker' was Campbell's '76/77 OIC.

Chef de Cuisine: John 'Buck' Buchanan, from Christchurch who cooks for Territorials in spare time.
Mechanic: Colin Wellington, from Titahi Bay, on secondment from N.Z.B.C. Was at Raoul in '71/72 as the mechanic.
Maintenance Officer: Jim Hickman, from Carterton, has spent some time in the Lighthouse Service, rest of the time mainly farming.
Senior Meteorological Officer: David Allen, from Christchurch, who was on Raoul with Evan McGregor's team in 1975/76.
Meteorological Officers: Blair Coburn, from Ashhurst. Michael Fraser, from Foxton. Bruce Anderson, from Te Atatu South.
CAMPBELL ISLAND:
Officer in Charge: Brian (B.A.C.) Smith, from Kawau Island, was at Campbell 1968/69 as O.I.C. Well kown to most CRIA types.
Telecom Technician: Kevin Bryers, from Auckland, was at Raoul with Evan McGregor during the shakes in 1975/76. Set to try the colder latitudes this time.
Chef de Cuisine: Michael Smith, from Otorohanga, on secondment from the Navy, has just got back from an extended overseas cruise with the 'Grey Funnel Line.'
Mechanical Man: John Burns, from Te Awanga, already developing into this team's prankster.
Senior Meteorological Officer: Lance Andrewes, from Dunedin, another one of Evan McGregor's 1975/76 clan.
Meteorological Officers: Paul Mallinson from Blenheim, fairly new in the Meteorological Service, spent some time in New Guinea as a bank officer. And Paul Bundo, from Dunedin, who has a penchant for jelly beans.
D.S.I.R. Technicians: Norm McMillan, from Rotorua. Graeme Youngman, from Kaiapoi.
*************************
MESSAGE FROM THE PRESIDENT
As the Association enters its eleventh year of existence I think it an opportune time to acknowledge the sterling efforts of your bulletin editor, Peter Ingram. Pete is presently on transfer to the RNZAF Base at Whenuapai, but hopefully he will continue to unearth the many items of interest similar to those that have abounded in former issues of the bulletin. Pete has been on your executive in one or more capacities each year since the Association's inception.
Whilst this may seem an annual plea, members please remember the Annual General Meeting and make a real effort to be there. This is the time when you can have your say in who will plot the Association's course for the next year and in which direction you wish it to take. Of course, your prompt payment of subscriptions will help tremendously also. If each of our 100 plus members adopts the attitude - "Oh she'll be right, Joe's going to the AGM, I don't need to," then we'll end up the same as other recent years, without a quorum. Let's get off our butts and prove 1977 an exception, fellow islanders.
My grateful thanks to the respective O.I.C.s for their significant contributions contained within these pages -many memories will undoubtedly be stirred. I wish to record my appreciation to all members of the 1976/7 executive who have given unstintingly of their time, effort and resources. Although there have been few formally organised functions, each has added a little something to the Association's bank balance.
My warm good wishes to you and yours for another good year, to the '77/78 teams for successful expeditions and to everyone for the rapidly approaching festive season.
Richard Lovegrove, President.
******************************
1977 ANNUAL GENERAL MEETING
The Campbell-Raoul Island Association (Inc) will hold its AGM at 2pm on Saturday 29th October 1977. The venue will again be the Lecture Hall on the 3rd floor of the N. Z. Meteorological Service's head office in Salamanca Road, Kelburn, Wellington. Members are also reminded that Association subscription for coming 1977/78 financial year is now due. The annual rate remains at $5. Please forward either cheque or money order to: The Treasurer, Campbell-Raoul Island Assoc., P.O. Box 3557, Wellington.
Tony Bromley, Secretary.
*******************************
THE ISLANDS REPORT IN
CAMPBELL ISLAND:
After four attempts, the following article was eventually retrieved from the ether, thanks to the patience of Noel Winterburn (Campbell OIC) and the Technical Operators and staff at Makara:
"Some pickings for the Newsletter from the jewel of the South Pacific - Campbell Island. Ex Campbell and Raoul Islanders have all, I suppose, suffered from complaints brought on by the dreaded sun. We have Keith Pagel who specialises in the very worst and most obscure of these upsets and he is adequately copied by about everybody here. But not the OIC though, who is the very model of good taste. For example, when discussing a magazine article which mentioned somebody's efforts to log the time of Government employees spent on the toilet each year - Keith wanted it recorded "as days in lieu."
"So you can see what I mean; however that is the worst aspect of the expedition which is about to draw to a close, and as you can guess, it has been a great year. There is the usual excitement about the coming servicing but the time has not rested too heavily on any of us. Events that are memorable to us and perhaps of interest to readers include the Mid-Winter swim where seven of the nine went in for a very quick dip; I shall deny you the names of the two pikers for fear of embarrassing the other fellows. The dip was followed by copious draughts of hot Gluewein on the wharf and then a nosh fit to burst the seams. Was impressed with the number of greetings we received from diverse places and people."
"Chess matches have been going on with Macquarie Island twice a week. I am happy to report that they do not beat us by too much. Actually, at the time of writing this, we are even with one match to play. Macquarie sound like a great bunch of people and we have all enjoyed yarning to them. HEY, THEY'VE GOT GIRLS OVER THERE. Two of them in fact."
"I returned to Beeman after several days at Bull Rock some months ago to catch four of the bods trying to escape. As we have no boat this year, Norm Hill (mechanic, Masterton) and Pete Turner (ionsphere, Tauranga) decided to build one out of diesel drums, helped by Keith Pagel (met observer, Dunedin) and Gary Innes (cook, Whangarei). She's a bit of a flop as an escape vehicle, but a great source of fun on calm days."
"Tramping has been high on our list of 'things to do' this year and a quick look at the log shows something like 400 man-days spent out of camp. This count does not include the summer chaps or those afternoon strolls up Mt Honey and such-like. We have built a beaut annex onto the Bull Rock hut which about doubles its floor area and the new part is high enough to stand up in. Quite proud of it we are, Mum. Four of us are now members of the 'Two hour Club', that is a door-to-door Bull Rock to Beeman in under two hours and a fifth member is only 8 minutes off. Its madness folks, but its fun."
"Had a phone-call from Dave Bustin of Vancouver Island, B.C., Canada, who was feeling all nostalgic after ten years away from Campbell. Fellows from Reg Blezard's year will no doubt remember him. Another bod suffering from 'Campbellcholia' must be B.A.C. Smith (OIC Campbell '69/69). News has reached us that Brian has put his fingers in the spokes and is due here again as OIC '77/78. Good for you, Brian.
Well, I've had the really good fortune to have been chosen to lead the 1977/78 Raoul Island team, so the pain of parting from the beautiful albatrosses has been softened some. But oh - the misery of all that impending sunshine. Nevertheless, it has been a delightful experience that I wouldn't have missed for anything and there is not one of our crew who is sorry to have come or really anxious to leave.
We are pleased to have met with you Campbell Island.
1st September '77. Noel Winterburn Officer in Charge
(Thankyou Noel and congratulations on your new appointment. However, don't worry too much about the parting with the beautiful albatross. I overheard the navigation leader on an 'Orion' recently complimenting Raoul's OIC over the R/T on his good looking sheep Ed.)
RAOUL ISLAND:
"Well, here it is 29 August, 1977, with the last month of our sojourn on Raoul Island coming up. As I sit here on the seat on Fleetwood Bluff overlooking a very calm blue Pacific in 20 degrees and beautiful sunshine, my thoughts go back to the past eleven months and as they do I get a sinking feeling in the pit of the stomach with the thought of having to leave the peace and tranquility of this unique island.
"Raoul has been good to us so far and we have had low average rainfall and only a few shakes just to remind us that we're sitting on a mountain-top. One record was broken and that was for the lowest temperature. The previous low was 9.2C and we have recorded an 8.90 and later in the month 8.8C.
"During the year we have been visited by nine yachts and this has helped maintain morale at a high level. The highlight of the year would have been the visit by the Russian research vessel Kallisto which stayed for several days. They were a terrific bunch of guys and gals and we were sad to see them leave as they sailed past Fleetwood Bluff on the evening of 15th January with everyone on her top deck and a display of rockets being fired.
"For a start-off, we had quite a busy time trying to plaster the various buildings with the eighty odd gallons of paint the MOT sent up, plus several other jobs about the island, but the crew worked well and the bulk of the Work's Programme was finished by May leaving only routine maintenance to be carried out. With the help of the old RD7 Caterpillar', and the mechanic, I set to and did the long overdue maintenance on the Boat Cove Road. It can now be travelled in comfort in the truck taking about eighteen minutes from the Hostel. We have been fortunate, or unfortunate, depending on how you look at it, to have had two expeditions of Forest Service and Lands & Survey parties during our stay. Once again we have been lucky and everyone has got on well with them - a lot of the credit for this should go to the amiable leaders of the parties:
1976 Lands & Survey Party - Leader: John (Cardigan Bay) Trotter and: John (Orinoco) Ombler.
1976 Forestry Party - Leader: Bob Halsey and: Bill (Jungle) Simmonds
"The latest we hear on the grapevine is that Lands & Survey are going to put a hut (the same as at Denham Bay) up on Mahoe and possibly a bivouac down in Sunshine Valley. I pity future OICs - they will never be able to find the crew members when they are needed. The Lands & Survey party have a Zodiac boat up here this year in the hope that they can use it to carry gear from Low Flat round to Denham Bay.
"After much running round in circles and advice from everyone on how to launch it, they finally got under way and reached Denham Bay more or less in safety. The only mishap was when Vick Kennett jumped out of the Zodiac too soon when landing, tripped on a rope and went under the boat. However his turn to laugh came when the other two Wombles, John Ombler and Tim Morrison tried to launch the boat again. They were picked up and smartly dumped back on the beach, upside down. Johm Ombler suddenly lost all his enthusiasm for 'Z' boating. Those of you familiar with the Denham Bay surf will understand why. John decided that the rest of the gear would have to go over the hill by pack, but after humping a spray-pump motor (for spraying Mysore, etc), the lightest part weighing 100 pounds, over the Denham Bay track, he decided to give the 'Z' boat another go and asked our mechanic (Captain Fantastic) to skipper it. The next report I received was that a rare species of bird had been sighted at Denham Bay, The Raoul Island Inverted Shag - it had made a couple of appearances from under an up-turned 'Z' boat. Apparently no one had told Captain Fantastic (Paul Sharpe) which way up a 'Z' boat is supposed to be beached or launched. Funny thing - Paul has also lost some of his enthusiasm for 'Z' boating.
"Jungle Simmonds and his bandits have been here two and half months chasing 'srnellies' and have really had to work for their tally of 270 to date. The goats are certainly getting fewer and the undergrowth on the hills is coming away fast.
"A few weeks ago the Captain and two of Jungle's bandits decided to circumnavigate the island in the 'Z' boat to look for goats. Upon rounding Hutchison Bluff they came across a foreign fishing vessel about half a mile off-shore travelling at 2 - 3 knots. The Zodiac immediately gave chase and got to within a couple of hundred yards before being sighted. (We suspect the intruding vessel was trying for some of the local products). The ship immediately turned away and took off at speed. At the time we put it down to the fact that the boys were armed to the teeth with rifles plus they let off a few rounds to let the guys waiting at Denham Bay know that they had got that far safely.
"A few days later a yacht anchored off Fishing Rock and when we tried to rendezvous with them in 'Chunder' (the island dinghy), they up-anchored and headed for the high seas. So we have now put these two experiences down to a bad case of b.o. and we all plan on having a bath before returning to New Zealand.
"Only half the vegetable garden has been utilised this year and we have found that it suits our requirements by keeping us supplied with fresh greens and tomatoes most of the year. Had a spot of trouble with the tomatoes when the boys sprayed them with a knap-sack sprayer that had been used for weed-killer. Didn't help the tomatoes' growth much, nor the OIC's temperament.
"Things were really looking up for the Servicing this year and the Ministry of Transport were going to use the one vessel for cargo and personnel (as used to be the case in the 1960's), but at the last moment, the idea, or the ship sank. Latest information has it that the old faithful Holmdale will be doing the cargo portion of the servicing and HMNZS Otago will be re-patriating the Expedition team plus the Forest Service and Lands & Survey parties. Ah well - we may get a chance to breast the bar and down our sorrows as we sail away from Raoul.
"I would like to take this opportunity to thank my crew for their help during the year -a great bunch of guys, the senior met officer, Mike Nicholas for his full co-operation, and Jim Barnes, my 2 i/c. Also, all those back in New Zealand who have helped in any way, particularly Ian Bell (the Laughing Policeman of Raoul & Campbell Administration Section), who always sounds bright and cheery on the R/T, although I sometimes suspect he doesn't always feel it.
"All the best from the 1976/77 'Raoul Island Rats' and hope we see some of you back in New Zealand." September 1977. Ian McGregor Officer in Charge.
(Thankyou too, Ian. Your informative contribution certainly updates the 'oldies' back here who always look forward to 'The Islands Report In.' A happy voyage home and a pleasant holiday before you all sign up again - Ed.)
*****************************
Aeradio, Wellington.
Raoul, October 16 1939.
Party here desires establish tennis court by working bee. Would Dept. be prepared provide wire netting and bitumen estimated cost five to six pounds stop also would you please obtain quotes for five good quality medium priced racquets complete with presses and canvas covers one tennis net and six boxes of spalding balls please reply early stop
Haskell.
*****************************
A splendid photograph of a GMD-1 recorder - had not Tony Veitch (R: 70/71, C: 72/73) got in the way. As it is his photo little more can be said. The GMD-1 has served some 17 years on Campbell Island as a ground receiver for 1680 mHz radiosondes. Temperature and humidity values within the atmosphere are recorded on the chart roll behind Tony's left hand and then translated to the adiabatic sheet on the plotting board. The GMD-1 also doubles as a wind finding unit, acting in an automatic radio theodolite capacity to track the radiosonde signal. Azimuth and elevation of the radiosonde's position from station are punched out on a strip chart at selected time intervals. Height is then determined from the Sonde's factory barocell calibration strip so that ground range (h cot e) or horizontal wind speed can be calculated. Designed for airdrop by parachute, the U.S. Army GMD-1 is a particularly robust unit and still sees extensive scientific use by meteorological stations supporting "Operation Deepfreeze."
*****************************
YACHT VALYA CRUISES CAMPBELL ISLAND
Within the yachting magazine "Sea Spray", for the months of September, October and November 1975, appears an interesting 3 section article on Annette Wilde's and Anthony Lealand's February visit to the sub-antarctic islands. The articles were forwarded to me by a thoughtful George Poppleton and so now the Campbell section section of this little maritime adventure appears here for our record.
The Valya is a 33 foot ferro-concrete cutter-rigged keeler which you will probably recall Annette Wilde securing fifth place in the 1974 New Plymouth to Brisbane solo race. Modified for oceanic work, the resultant buildup and portholing of the topsides has sapped her beauty but evidently has created an efficient and comfortable interior - all too necessary for such southern cruising. (Orignal mention of Valya at Campbell Island appeared on page 18 Vol3 No 1, September 1975.)
_________
" …. During that evening and night the sea burned phosphorescent (possibly 19th February off the Otago coast -Ed). Every breaking wave in that very black night flared with green fire. Valya trailed a dusty green tail 100 feet long and the log line twinkled all down its length. Dolphins would hurry from nowhere, hurtle round the yacht, perfectly delineated in green mantles, then dive vertically till only the green line of their tail was visible. Then, a second later, a green bomb would explode on the side as the dolphin shot straight out of the water and fell back in, leaving sparkling green spots skittering over the surface of the sea. Much was the airing of our sail wardrobe over the next few days, till at last, in sight of Campbell and a little to the north-west, up came a solid south-west which saw us with only double-reefed main, hove to, till the ragged sea settled to something more suitable for sailing,
"When early the next day we started beating towards Campbell it seemed too easy. Valya handled the long seas well, but about 12 miles off, the cross-sea in the lee gave us occasional deep holes to fall into, bringing everything to a smashing halt. At last, well under the lee, the seas settled to a short chop and we made a fast trip down coast to Perseverance Harbour where it would have been in order to use trysail and storm jib to beat in slowly. But sick of averageing 50 miles a day we treated Mr Nalder's canvas to a towelling, and the Met station staff to a rare sight.
"A dreadful confusion of faces awaited us, for apart from the Met staff eager for parcels, Acheron was also anchored in Perseverance. She left that evening, skipper Alex Black having given us a run-down on recent information he had on the Auckland Islands, as well as a very nice apricot pie. Soon after we arrived our arm was lightly twisted to see if we could take a few bits of wood and iron round to South East Harbour where a hut was to be built. Valya was to be the hut's name so how could we resist? Now Valya has a saloon sole 13 feet long and averaging 4 feet wide. This we filled to a depth of 2 feet with piles, precut A-frames, lino, Nova roof and then topped up four bunks with a chain saw, tool bags, hut supplies, mattresses, packs and tins of paint. With all this ballast a deck cargo seemed in order so three sheets of chipboard and 10 sheets of iron were lashed down. John (Walton, carpenter, Auckland – Ed), the hut's builder is a thorough workman.
"Our first attempt to go round ended before we left Perseverance. A wild sea was nosing into the harbour entrance in spite of a favourable forecast. Two of the lads decided they would walk anyway. After waiting two more days, staying at the Met hostel, we and Andy Woodall (DSIR, Kaitaia) set out. The sea was more regular now. Under double-reefed main and staysail we motor-sailed down the coast tacking into a sea which steadily became worse. As South East Harbour came into sight it dawned on us what the sea was about. Apart from the echo sounder's trace of a canyon-like bottom which, with the contrary tide, kicked up the sea, we were also in the lee of Jaquemart Island which gave a steep cross-sea. We really needed far more sail to help drive and steady Valya but was unwilling to heel her more than necessary, for the waves were tossing her to 30 degrees. Another 30 degrees from wind pressure could have had things toppling about down below.
"Chuckling as we motored into quieter waters, we came to a sudden halt at a 200 foot wide bar of thick kelp. As is common in steep-to harbours, the wind came in short gusts from every direction interspersed with long calms. I had no wish to try to sail through the kelp for it often hides rocks. The kelp at one end was was thinner however, so we decided to charge at it and stop the motor in gear, coasting through so the prop would not turn and catch kelp. However, Andy did an excellent job from the ratlines, conning us in so that even though kelp brushed each side, none went under the bow to the prop. Annette was sweating over the echo sounder trace while this went on ready to give full reverse if we looked a little deep for the water.
"In behind the kelp bar we checked depth. The closest we cared to go to the shore, because of the bumpy bottom, was about one and a half cables. The surge from behind Jaquemart came into the harbour making the beach stir with a 3 foot surf. The rocks did not seem as bad, so I put on my wet suit, having a feeling I might need it. We ran a line ashore and with the aid of an Avon 8 foot Redstart, started ferrying iron and chipboard ashore. The dinghy proved a marvel. With me perched on top of the load and pulling it to shore along the line, it never once showed signs of instability. Nor did the bashing it got on the rocks worry it one bit, even with the knobbly loads like boxes and chain saws.
"However, this method was slow, so we nailed all the wood together in two rafts. The piles were clove-hitched together like a string of sausages and the whole caboose heaved over the side and towed ashore. John and Mike (Meskimmon, mechanic, Wairoa) who had walked over and did all the humping, spent a wet cold night on the beach under a lean-to rather than come on the yacht, which still had a lively motion. For the night we moved back outside the kelp in case we had to sail out because of a wind shift.
"Morning brought 30 knot blowing straight out, bad weather for rubber boats; worse, the chop hid the kelp passage. After sadly thinking of the others sweating to get a roof up for the night, we drank another cup of tea and pushed out. The forecast, promised more knots for the westerly.
"Outside was the roughest water we had ever sailed in. The cross-seas were not high, 10 - 15 feet, but steep, tumbling over the uneven bottom. The westerly wind curved round the bottom of the island, driving the seas up the coast. At the same time, willys blew from off the land raising a 3 foot sea in no fetch at all. Andy was impressed, till he felt Valya start to pick up on the seas. He had been on a big trawler which had broached while running fast to port in the North Sea, and felt no desire to try it again. By Perseverance the sea had moderated, but we were ready for what would be coming down the harbour. Even the trysail and storm staysail seemed too much canvas to beat with. The wind was 50 to 60 knots and the sea with a six-mile fetch was very short and steep.
"As we plugged further up the harbour we noticed a bias to the wind and found we could almost lay our anchorage on one tack. The only relief on that dreadful beat was when a particularly violent willy would lay us so far over that the spray whistled clear overhead off the topsides, leaving those in the cockpit unstung. North East Harbour was next for investigation. Only one of the station had ever walked there. Andy Woodall came with us, a champion gentleman who had sailed as wireless op on North Sea trawlers. He had shown us the magic of the broadcast meteorological analysis whereby we could plot a weather map for our area and well to the east. It needs the skill of 20 word per minute Morse for the numbers 0 to 9, so we tape this and then play it back slowly on our cassette recorder.
"A good westerly was blowing and after a very fast trip up the coast, we were back to bashing our way in under trysail and storm staysail. We could not anchor as close to shore as we wanted for there was much kelp. The wind had eased, however, and we were not too uncomfortable. Next day was sunny with little wind. Fortunately the whalers had left many fine ring bolts set in big rocks so we rowed nearly a cable of rope to one of these. This gave us good holding against any westerly, for the head of the bay looked as good a wind funnel as Perseverance.
"Much of the water's edge on the east side has (if it is not cliff) draco down to high tide level. So at high tide it made progress against sleek, interested woofing sealions, a contest of wills. Generally someone brave would draw out a bull into a discussion while the other would sneak on past. Then the procedure was reversed to get the other past. However, plans were often upset when young bulls, eager to test their mettle, would charge out of the bush behind one. Sea-lions, while slow over any distance, travel relatively huge distances on land, skipping their way on flippers. Andy found some two-thirds of the way up Mount Honey, 1800 foot high. Later we found some on Auckland Island one mile inland through rata bush and draco that took us an hour of whacking to travel.
"Andy returned to the station that day to radio back that it was blowing 50 knots westerly and how were we? Well, we had 15 - 20 knots. Those whalers obviously had it all sorted out. Ashore were the remains of the whaling station, three trypots in excellent order and various rusty bits of railway iron, settling tanks, and galvanised wire rope, some of which was still in good order. The whaling station had been made by flattening the end of low spit and heaping earth behind a stone breastwork. Seaward of this a shallow area on which whales could be dragged at high tide and flensed at low.
"After receiving a fright when, at two in the morning, the yacht turned and lay to her anchor as a gentle easterly air wafted in, we set in for Tucker Cove. Actually the easterly sail for Perseverance which has a modicum of easterly protection, was of no substance, for an extensive high passed close by giving no wind of any account. This gave us an excellent chance for a look at the coast. We saw in the cliffs of Smooth Water Bay a very rectangular cave. Annette and Hugh (Anderson, Ion Observer, Wellington), who had hiked over from the station, took the Avon into the cave. We also checked out a passage behind Cossack Rock off the entrance to North East Harbour. This passage would save a good half mile were we ever to beat into North East from the north.
"Back in Perseverance with our standard westerly we woke up one morning to find ourselves a half- mile down harbour. The 45 lb CQR (anchor) was backed with the 35 lb model. Again we dragged with our full 30 fathom scope in five fathoms. This called for sterner measures, so we ran a line ashore to the substantial base of the leading lights. Later someone mentioned that the icebreaker Glacier had dragged both anchors and that the Holmburn always lay two anchors with a huge scope of chain. So much for the holding ground.
"Now, as the easterly returned in some force, we motored cautiously into Tucker Cove behind the station. Although well protected from the easterly by the low hill, dragging was punishable by immediate grounding for any southerly or westerly wind shift, as Tucker Cove is very small, shallow and rock-fringed. We kept a cautious eye on the easterly which, however, chose to fade away. I was happy to avoid any intrepid midnight manoeuvres occasioned by a wind shift. With the returning westerly, Annette and I decided to have a look at the 'Valya Hut' in South East Harbour. Besides Andy Wocdall, who seemed to have an unhealthy appetite for a beating, we took two of the met staff, Andy II (Fraser, Invercargill) and Peter (Wood, Invercargill now Met H.O.). I hinged up the leeboards on two bunks just in case.
"Having beaten down the coast we were disappointed to find that the wind, now south-west, was sending a surge round the corner into South East Harbour and I could see through the binoculars the tops of the seas being blown backwards by the wind as they broke on the shore. Andy II and Peter were not happy at all and on being told they would not be landing but sailing back, they looked very sad. We tucked them down on a bunk each with a bucket apiece and went back to sneak in eddies round the head into Perseverance, successfully avoiding a quarter-mile of our beat.
"Our (next) meteorological report was for light winds so with Andy, Wayne (Mantell, Telecom Tech, Christchurch) and Pose (Neil Postleweight, Cook, Wairoa) we set out for South East Harbour. Conditions ended up a flat calm, but off the harbour entrance the sea had swirls and long slicks from the tide. We shot the kelp passage on a dead motor, the gap having closed. The little beach, now calm enough to land on, was a steep slope of fist-sized round rocks . Each wave tossed these up and they rolled back in the outwash with a peculiar clacking sound.
"Ashore, apart from a few yellow-eyed penguins, starchy individuals given to squawking loudly and asserting their rights when encountered, was a genuine 100% fur seal. The following day back to our beat up Perseverance Harbour. Poss established himself on the end of the bowsprit. In this position he was clear of the spray and could enjoy the sight of the rest of us getting a sloshing. However, Valya poked her nose into two seas in quick succession and topped up his gumboots to our satisfaction.
"Time to leave. We loaded a sack of mail, more DSIR equipment to return to New Zealand and then sat tight waiting for a favourable wind. Within two days an easterly arrived so we immediately sailed. We had said our goodbyes previously, especially to Rolf Kern, the station boss who had set the tone for a happy and informal visit. "As soon as we were out of the harbour, the wind freshened and within one and a half hours the island was lost in mucky grey cloud."
***************************
Raoul lsland is the largest of the Kermadec group which lies nearly 1000 km to the north-east of Auckland. It is very roughly triangular in shape with its broadest, highest end in the east and south-east, about 8 km across, tapering to its narrowest at the west-north-west end about 3 km away. It is a volcano still partially active and its highest points rising to 900 to 1,700 ft (270 to 520 m) above sea level form the rim of a complex crater containing the Blue and Green lakes. The observing site is located on a narrow shelf on top of 130ft (40 ) cliffs near the middle of the northern coast of the lsland and is 152ft (46 m) above sea level. There is a sea horizon in the northern quadrant, but inland in the southern sectors the land rises steeply in forested country reaching 550 feet (170 m) within a distance of 450 m and 1,600 feet (500 m) within 1500 m. Within 1 to 2 kilometres peaks reach 900 and 1,500 ft (270 and 450 m) on the north-western rim of the crater. The outlook is very restricted in most of the southern semicircle. The furtherest visibility point other than the sea horizon is Napier Island 5.4 km. There is a cup-generator anemometer (dials) located on a mast 30ft (9 m) high located 40 m north-eat of the instrument enclosure on ground 130ft (40 m) above sea level. The exposure is poor but it is unlikely any better site could be found. Winds from the easterly quarter are least affected. Obseving Staff: New Zealand Meteorological Service staff.
_________

This is how we appear in the 'Gazetteer of Weather Reporting Stations -South Pacific Region.' For those not in the know, no amount of dialling 93997 or 93944 will raise the lads on the islands. These numbers provide the meteorological stations with an international identification tag for all weather information transmitted in numerical code.
Campbell Island lies about 650 km south of the South Island and rises abruptly from the Southern Ocean with rugged hills reaching 1,000 to 1,600 ft (300 to 570 m) above sea level. The only vegetation is tussock, snow-grass, and sub-alpine flora. The station is located toward the western end of Perseverence Harbour, about 7 km from the open sea. The harbour is barely 1 km across with hills rising fairly steeply from either side. The station is located on an area of gently rolling ground a few hundred metres wide at the southern foot of Beeman Hill which rises to 613ft (185 m) within less than 1 km to the north. In the north-east sector the Lyall-Moubray ridge rises to 1,355 ft (415 m) at Mt. Lyall 2 km away and to 818 It (250 m) 6 km to the east. Mt. Honey rises to 1,867 ft (570 m nearly 3 km) to the south-east. Westwards from the head of the harbour the elevation reaches 600 to 900 ft (160 to 270 m) within 2 to 3 km. The height of the station is 49 ft (14.9 m) above sea level. There is a cup generator anemometer (dials and recorder) on a mast 31 It (9.5 m) high. The base is 16 ft (5 m) above sea level on open, rolling tussock land 35 m south of the enclosure. There are no large obstructions near the anemometer, but the topography of the Island has considerable effect on the airflow and it is unlikely that the readings are representative of winds over the surrounding ocean. This seems particularly so when the broad scale wind pattern is in the north to north-east sector with sufficient strength, for then the winds at the observing site appear to be easterly. A good selection of visibility and cloud height marks is available up to 5 km and 1,800 ft (550 m) respectively.
Obseving staff: New Zealand Meteorological Service staff.
______
The latter 3 figures in these station numbers often become life-long verbal references to the islands for those who have lived there. Concise remarks like, "Good old nine-nine-seven" or "Send the young lad to nine-four-four" help explain certain situations very quickly and provide a nostalgic link with the past Ed. Maps and Text - courtesy of N.Z. Meteorological Service.
***************************
In my View by Sirius.
THE SILLY SEASON
It is indeed gratifying to know that there is no economic recession in New Zealand, as Government is evidently not intent on reducing expenditure in every area of departmental spending. We all know that the Social Welfare Department is favourably looked upon by this Government, but the Ministry of Transport is also in there amongst the big spenders. Usually reliable sources have quoted the cost of this year's island servicing at $200,000 - a whooping $50,000 in addition to the original estimates due to an apparent Ministry blunder.
The orginal idea was to send the Lady Vera, an oil exploration vessel, with this year's parties and containerise the cargo to Campbell and Raoul Islands. A glorious scheme calculated to save hundreds of dollars. Then some gentleman in the Ministry asked the question - "How are we going to unload the containers at the islands?" Facilities at Raoul and Campbell Island for such a task, are of course, non-existent. Again intelligent minds were in action at the Ministry - this time asking "How can we best rectify the situation?" The end result of such deliberations is a sorry indictment on the Ministry and is interesting to relate.
The Lady Vera idea was scrapped at short notice and the Holmdale was pressed into service at no small cost to do the
cargo servicing of both islands. However, the incoming party are travelling to Campbell on the Bluff-Stewart Island ferry, the Wairua. The outgoing party are also returning on this ship before the Holmdale arrives. So the new lads will be doing the servicing without the experience and help of the outgoing expedition. To be sure, the incoming Leader to Campbell has been there before, but for the other 8 or so staff, it shall be a new experience. The potential danger, especially if the weather is inclement, of such a servicing is, frankly, scandalous.
The party going to Raoul has an exciting journey ahead of them. They fly to Nandi and then sail from Suva to Raoul in a Naval vessel. The Holmdale will have completed servicing of the cargo prior to their arrival. The outgoing expedition will undertake this mammoth task on their own without the aid of additional men. The dangers of working the 'fox' and Fishing Rock crane are very real and the addition of the new party is vital, especially as they will not be able to learn the procedure adequately for when the servicing comes next year. Again, an apparent disregard for safety.
At both islands, servicing will be slow business with the fatigue factor becoming critical in the final stages of the operation.
It is possible, I believe, that higher echelons of the Ministry of Transport know nothing of the plans and allocation of expenditure for this year's servicing. In fact, I understand various officers in the Ministry's lower levels are being congratulated for the smooth functioning of the contingency plans made as the result of the original blunder. Perhaps the sinister nebulous tentacles of the Prime Minister's Office should cast an eye toward the 'spendthrift' Ministry of Transport. Perhaps an additional clue lies therein for the answer to the country's general economic woes.
********************************
1907/08 KERMADEC EXPEDITION
In December of 1907, the Hinemoa (Captain Bellons) dropped a 5 man team off in Denham Bay, for a comprehensive scientific study of Raoul Island. Those five were Messrs W.R. Oliver, S.R. Oliver, W.L. Wallace, C.E. Warden and T. Iredale. Tom Iredale subsequently wrote an account of the expedition for the public and it appeared in 3 installments of the "Evening Post" (Wellington) on the 19, 23 and 28 December 1908. The following extract
s are the more descriptive pieces from these rather tedious and lack-of-facts installments. They can be fully studied at the Turnbull Library, Wellington. (catalogued: Kermadec Islands.)
__________
BUILDING WHARES: "Having selected the position for our camp, we had at once to commence building operations. It was decided to erect a big whare wherein to store all such articles other than food, and also to be used as a dining-room and working space. To this was attached a kitchen with a big chimney. A second smaller whare was built simply for sleeping in. It was then found necessary to build a third whare to store all provisions to prevent depredations by rats. This whare was built on raised posts, which were encircled by a long piece of very smooth tin. This was called by the Maori name of 'pataka.' These whares were all built on the same plan. The framework consisted of pohutukawa saplings and the covering was variously of rushes, banana leaves, nikau leaves and toi-toi. The saplings had to be cut out of the bush, and carried over a quarter or half mile of country not easily traversed. The banana leaves were further distant, whilst the nikau was rarely used. The rushes had all to be cut out of the swamp and as this meant wading in up to the knees all day, it was not exactly a pleasant job. When completed, the whares kept out all the rain, though they let in all the fresh air, no doors being used and open places for windows. During the winter, a window was made up out of spoilt half-plate negatives, so that on wet days work could be done which needed a good light.
"Whilst building these whares, we had to convey all our packages from the landing place to this camp (150 boxes over a mile - Ed), so that progress was not so fast as might be anticipated from the results. As an instance, it took nearly a week to build the chimneys and fireplace alone and this was hurried as wet weather set in and we could not keep a good fire going in the open. Having completed our Denham Bay settlement, we put in order the homestead on the north coast (Bell's former home, Vol 2, No 8, page 180 - Ed). This was roofed with iron and spouting conveyed the rain water to two very large tanks, the only water supply available on that coast. The sides were, in this case, nikau, as there was plenty of this handy.
ON FOOD: "Our food whilst on the island was mainly subtropical in nature. The staff of life we mad
e taro, in preference to bread and potatoes. This tropical food we found to be most sustaining, palatable and easily carried. In addition, we had yams, kumeras, and bananas, as well as almost every vegetable that can be grown in New Zealand. The cooking bananas especially appealed to all of us, and these, with taro were our sole food for weeks at times. This was due to desire, not necessity. The only flesh foods were muttonbirds and goats. The former were the staple, the latter a luxury. Wild goats were fairly plentiful, but it necessitated a full day to procure one and often bare days resulted, not due to lack of goats, but scarcity of animals fit to eat. We could be hardly called vegetarians, but we were closely allied. Fish could be very easily caught when ever the weather was calm. For almost six months, however, in Denham Bay, we were unable to fish, so that we did not get the quantity of this food we had anticipated from the reports we had heard.
OF THE BELL FAMILY: "They understood the soil, the climate, and the nature of the plants they can cultivate, so ·that their garden is almost a glimpse into the tropics. This is modified, however, by the presence of all the familiar New Zealand vegetables - thus, pineapples, taro and yams grow side by side with peas, potatoes and cabbages. As the Bell's only means of reaching the Auckland market is the annual visit of the Hinemoa, they are at present exporting no fruit, but are endeavouring to obtain some plant that will furnish a dried product that will be payable. In the meanwhile they are extending their cultivations, and as the question has been asked so often, "However do they pass the time?" it may not be out of place to describe some of their work. It must be remembered that they have to depend absolutely upon themselves. They have to save all their seeds, and in order to keep pure strains have to hand-fertilise the flowers. This occupies a fair amount of time; furthermore, they have to study the land so that they can get the best results. Thus taro requires peculiar treatment inasmuch as it will not yield a crop on cultivated land. It must be planted on cleared native soil. Bananas require good ground and plenty of light, the more sunshine they get, the finer they grow. The land is deficient in lime and to remedy this, coral is obtained by means of a grapple and is burnt. Some of the plants require manure. The only method is to catch a few boatloads of fish. Such is the tale all through. Every missing thing has to be replaced by something else, which probably requires a great deal of thinking out. They are constantly conducting experiments ae new troubles keep cropping up ….. Sheep were also tried, but some disease carried them off. When we landed another attempt was being made and 31 were alive at that time. But within three months 6 alone remained and these still survived when we left. What was the cause of the epidemic we were unable to find out, but the reason must be discovered before sheep will ever pay on Sunday Island.
VOLCANIC ACTIVITY: "In the crater were two large lakes, which had been active as recently as the early seventies. At the present time two bare patches show where the most severe damage was done, and all around these the scrub is easily seen to be new - whilst dead, burnt trees can still be seen. At the end of the chief crater lake are holes from which issue steam and the water can be heard boiling at a distance of some yards. We dug round one of these holes and converted it into a basin, wherein we boiled eggs, taro and other vegetables.
ON FISH: "The variability of colouration which we have noted in almost every class was also a characteristic feature. Fish which commenced life usually of a bright blue colour were almost black when adult whilst other young of another blackish fish varied from pale yellowish green and pinkish brown to dark brown. Bright lemon-coloured fish sometimes occurring in numbers, would not take bait, but they may have been variants of a commonly noted dark fish (Yellow Drummer Vol 2 p 82)."
1907-08 Kermadec Expedition: Mr W.R.B. Oliver's (later Dr Oliver and director, Dominion Museum) camp at Denham Bay being made in readiness for a 11 month stay. Top photo shows the combination kitchen / dining / workshop whare and the lower scene, sleeping hut in preparation and the elevated food hut to the left. Note the turn of the century Stevenson screen in the foreground.
********************************
Lunchtime Break - Two excellent photograph albums may be viewed at the Turnbull Library's photographic section in Castrol House, Dixon Street, Wellington. The first is a presentation album to Captain Bollons from the 1907 Sub-Antarctic Expedition and the other is W.R.B. Oliver's collection from the 1908 Kermadec Expedition - Ed.
********************************
Weatherwatch
Raoul
Max
Min
Mean
*Nml
Rain
Days
*Nml
Sun(hrs)
Jan 1977
23.9
19.1
21.9
-0.3
96
8
+5
179
Feb
24.4
20.3
22.5
+0.1
117
14
-38
148
Mar
23.9
19.6
22.8
+0.9
69
18
-63
152
Apr
23.4
17.4
20.4
-0.3
58
18
-66
192
May
21.0
15.4
18.2
-0.6
118
21
-27
110
Jun
19.9
14.2
17.1
-0.2
77
6
-73
132
Half Year Total
-0.4
535
85
-262
913
Chathams
Jan 1977
17.1
11.0
24.1
-0.3
133
18
+80
175
Feb
17.9
12.4
15.2
+0.4
14
8
-50
169
Mar
16.6
11.4
14.0
-0.2
27
15
-57
112
Apr
16.0
10.6
13.3
+0.9
137
20
+48
109
May
12.5
7.5
10.0
-0.4
207
28
+90
70
Jun
11.4
5.8
8.6
-0.1
87
22
-7
84
Half Year Total
+0.3
605
111
+104
719
Campbell
Jan 1977
12.0
6.7
9.4
+0.1
115
28
-9
80
Feb
12.1
6.7
9.4
+0.2
85
17
-29
75
Mar
10.8
6.4
8.6
+0.1
108
23
-22
26
Apr
9.6
4.6
7.1
0.0
145
26
+23
36
May
7.8
2.5
5.2
-0.9
67
24
-73
20
Jun
6.4
1.9
4.2
-0.6
111
26
-19
3
Half Year Total
-1.1
631
144
-129
240
*Nml - Departure from normal, where the term 'normal' refers to the 30 year period 1941 - 1970 inclusive. Max and Min are maximum and minimum air temperatures in degress celcius. Rainfall is in millimetres. All figures are from the monthly publication, N.Z. Gazette - Ed.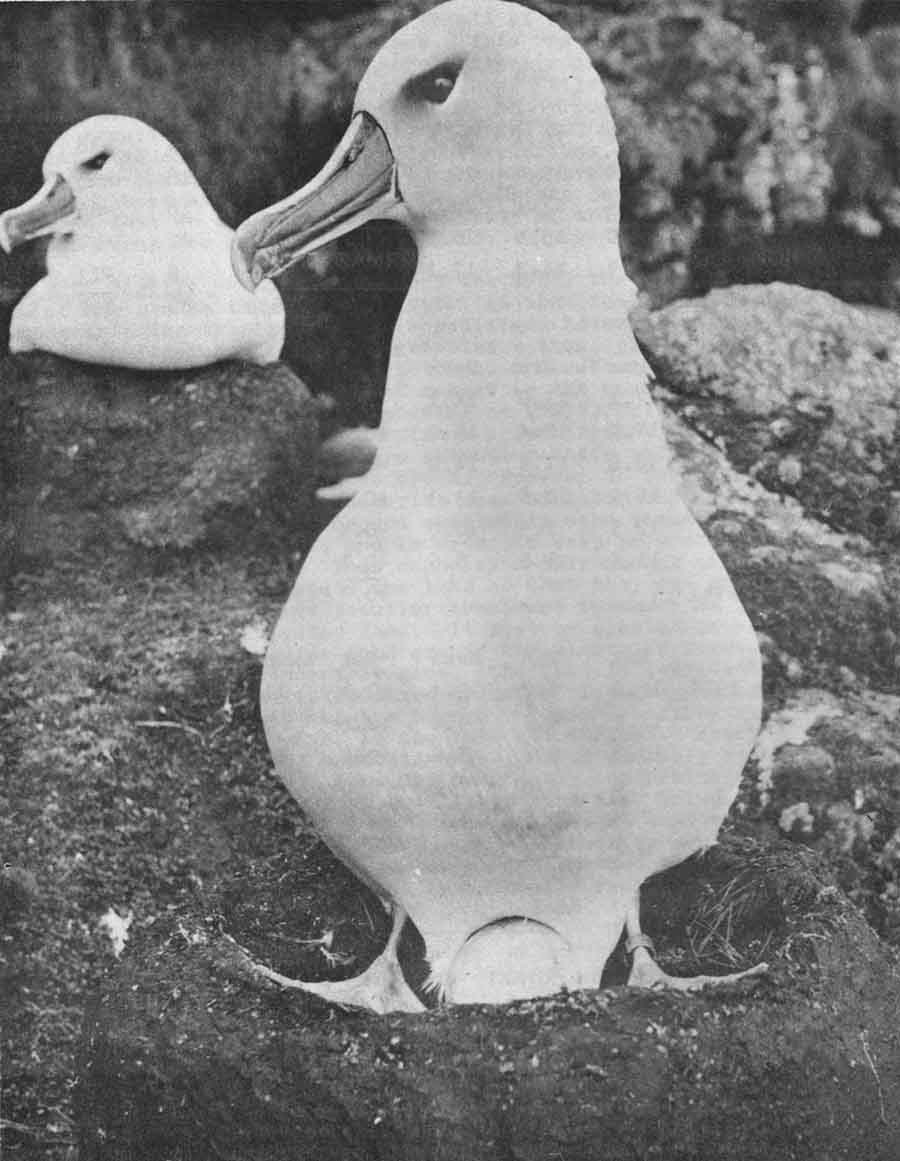 Grey Headed Mollymawks - Campbell Island
Photo: Colin Clark